There is at least a morbid fascination in watching – in real time – a dictatorship destroy a free society. In just seven days since 'Freak-Out Friday', we've seen the LegCo coup, a ban on the June 4 vigil and choreographed attacks on the once-independent RTHK and exams authority.
Now Beijing has decided to impose a de facto Article 23 national security law on Hong Kong by directly inserting it into Annex III of the Basic Law. Don't quibble about whether this is legal: if the CCP does it, it is.
All we know is that the new law will ban sedition, subversion, foreign intervention and 'terrorism'. There are no details as yet, and the final wording will no doubt be intentionally vague. The aim is to hugely expand the pretexts for silencing and punishing dissent.
Whatever the wording, the outcome is likely to include criminalization of opinions, such as mere advocacy of  Hong Kong independence or the downfall of the Communist Party. This points to Internet or print censorship. The new law will probably enable suppression of a wide range of opposition activities – for example the banning of websites used to organize protests, or even possession of anti-government banners. It could include the intimidation of lawyers who defend opponents of the regime or people who help fund activist causes ('subversion of state power' in the Mainland).
The ban on foreign interference will obviously target ties between the pan-dem camp and overseas politicians or other 'foreign forces', and probably enable the freezing of any (allegedly) foreign-sourced funds going to pan-dems. It could also be used to bar more people from Hong Kong – and even to kick out non-locals like teachers or journalists who are deemed to be infiltrators helping the opposition.
Many Hongkongers hope to see a fierce backlash from the US and other countries. Beijing forewarned foreign diplomats of the national security law announcement, claiming an urgent need to address threats posed by a small minority of extremists. The regime probably hopes that by keeping the new law vague, and applying it gradually at first, it can string overseas powers along. Chances are it is right – Hong Kong alone is not enough to bring about the inevitable major bust-up with the West.
Is it the end of 'One Country Two Systems' and rule of law? Of course. But those ideas have been redefined into meaninglessness already. More companies will think of relocating. More families will start packing their bags. Even the stock market drops 3.4%. The CCP couldn't care less. Remember – 'national security' = 'CCP insecurity'. In responding, Hongkongers need to bear in mind that the CCP is petrified and dangerous.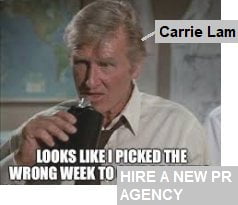 I declare the weekend open with a painstakingly curated selection of items to pass a few rainy days…
Has BrandHK given up trying? For some reason, it makes space on its website for a police-financed glossy (not to say gory) brochure on every evil thing done by protesters, plus much more.
Some inconvenient and worrying stats from the back of the IPCC Report on the HK Police.
Michael Chugani in EJ rails at Hong Kong's creeping authoritarianism (as of Wednesday or so).
Bloomberg on the protest-supporting 'yellow economic circle', which now (this being Hong Kong) boasts its own chamber of commerce. One nice detail: while pro-movement folk boycott 'blue' businesses, blue-ribbon supporters tend to be so indifferent (or dim?) that they carry on using 'yellow' ones.
The Diplomat is also picking up on the 'yellow economy'. How long before we see an orchestrated campaign of lawfare/intimidation (as former CE CY Leung has darkly hinted at) against pro-protest shops and restaurants and their owners?
Speaking of whom… Like many, I have memories of going down the big slides at Water World back in the old days, but haven't been to the attraction since that part closed. And like many, my feeling is: if it keeps Mainland tourists away, shut it down. Anyway – how CY Leung wrecked Ocean Park, by Lo Kin-hei of Southern District Council.
News you can use from HK Free Press: a guide to HK Police rifles. Essentially (as you might have guessed), the ones with orange stocks/magazines fire sub-lethal munitions. The plain ones are loaded with actual 5.56mm rounds. Assuming commanders are issuing these guys with live ammo. If so, what on earth are they thinking?
A link here to Clement Shield, the company set up by an ex-Hong Kong cop that (perhaps, allegedly) trained the LegCo security guards. Design fans will notice the website has that very recognizable, superficially flashy we're-hucksters-who-charge-suckers-high-fees aesthetic – also used by financial advisors, private-school consultants, etc.
Hong Kong seems to be a popular subject for overseas college media – the Yale Daily News on the Revolution of Our Time.
A Polish supporter of Hong Kong suggests non-violence resistance methods, including mockery.
No fewer than three items in the 'World is Rethinking China' category.
1. A former Republican US Senator writes in Newsweek: 'We gave China a chance. They blew it'.
2. Francis Fukuyama in American Interest explores what Xi Jinping's regime owes to ancient and more recent Chinese governance…
One of the great dangers today is that the world looks to Xi's totalitarian model, rather than a broader East Asian model that combines strong state capacity with technocratic competence, as the winning formula in facing future crises.
3. Perhaps best of the lot, The Tablet asks where the CCP is coming from and what it's trying to do…
As Beijing sees it, China's success depends on discrediting the tenets of liberal capitalism so that notions like individual freedom and constitutional democracy come to be seen as the relics of an obsolete system.
(The Tablet is my kind of 'new read on Jewish life', including thoughts inspired by Who guitarist/songwriter Pete Townsend's – allegedly Semitic-looking – nose.)
As well as reassessing China, the world is suddenly starting to take a fresh look at Taiwan. The New Statesman offers a piece on identity and independence in Taiwan (with reference to Hong Kong). And Oxford Academic asks why plucky little Paraguay still has relations with the Republic of China (summary: partly because it's nicer to be a big friend of a small country than a small friend of a big country, plus a shared experience of overweening neighbouring states).