Not one, not two, but three SCMP pieces on how China is making itself unpopular around the world, encouraging online xenophobia, unleashing rabid 'wolf warrior' diplomats and (eeeww) nagging Germans to say nice things about them. And a fourth, in Australia. Meanwhile, Hong Kong's police commissioner is undermining his force's sorry reputation by freaking out at RTHK and denouncing every criticism as a dastardly smear.
There's a parallel here. Beijing is not going to restore halfway-amicable relations with the international community unless it accepts some basic responsibility for letting the virus loose through early cover-ups. And Hong Kong isn't going to return to any sort of normality unless the police man up about Yuen Long, Prince Edward and other mayhem.
We're in for a long wait. Certainly nothing until Monday! I declare the four-day weekend open with some time-absorbing intellectual stimulation (please, no Chinese diplomat-style whining if some links are paywalled)…
The Bar Association boss asks the government to clarify the extent of the 'supervisory' power Beijing's non-departments have over Hong Kong. Where does the power actually come from, how long has it existed, and where's the accountability? Does the power extend to prosecutors, the ICAC, or the judiciary? (Will the government actually give answers?)
More from Webb – officials' (deliberate) confusion of laws against gatherings for disease control with those against assembles for public-order reasons.
A vid from district councilor Lo Kin-hei on Hong Kong as a Harry Potter story.
Journalist Lian Yi-zhen in the NYT on Beijing's obsession with control in Hong Kong…
…the recent developments actually are remarkable. For the first time, the traditional pan-dems are being treated as enemies just like the separatists. And for the first time, Beijing is violating the very letter of the Basic Law, which it itself has promulgated; the Chinese government typically only contorts the law and distorts its spirit.
…Even short of a replay of Tiananmen 1989 or Taiwan 1947, there can be no doubt anymore that Beijing is determined to dismantle what remains of HK's freedoms and, much as it has done with Tibet and Xinjiang, to ensure that HK is autonomous only in name.
Antony Dapiran in Foreign Policy on the pandemic and the crackdown…
Beijing mobilized various public institutions in Hong Kong to support the government line and oppose the protesters. From the police force to the MTR (operator of the city's subway system), from the Airport Authority and Hong Kong's flag-carrier airline, Cathay Pacific, to the city's largest bank, HSBC, all were pressed into service by Beijing and forced to publicly take a stand against the protests. The result was a collapse of public trust in these institutions whose identity had hitherto been closely tied to that of the city and on which citizens relied in their day-to-day lives.
HK Free Press on Benny Tai's latest idealistic/fiendish/naïve plan to push democracy in Hong Kong through elections – a contest rigged by Beijing and with a CCP umpire who can impose whatever decisions he wants. After DC elections, he says…
This election is not taking place in an ordinary democratic society but rather within an autocratic environment. This election is itself like a zone of resistance… 'A Legislative Council majority is the most lethal constitutional weapon.'
See also a summary of Benny's 10-stage plan for getting Hong Kong and the CCP to leap off a cliff together.
Given Beijing's utter rejection of any infringement of its monopoly of power (see the Dennis Kwok freak-out), a pan-dem takeover of LegCo will not happen. Beijing would just pull the plug on the council, if not the election.
Asia Sentinel gets nasty…
After voter rejection of the Beijing proxies in last November's district council polls – where 17 out of 18 councils flipped to the pan-democrats – the loyalists in LegCo are spooked. None of them seek endorsement from Carrie Lam, the current chief executive. She is a political liability, cry the faithful. Beijing agrees. Lam is tied to the stake as the lightning rod to absorb the people's wrath, while the patriots scheme…
…If Hong Kong is not sufficiently frightened by 7,000 youth detained and peaceful protest leaders arrested, and the community remains defiant, an emergency could be declared and martial law imposed. The LegCo elections can be canceled and more leaders arrested without regard to legal niceties. Beijing does not care what liberals in the West think anymore. It is a Superbrat on its own terms.
From the Wall Street Journal, more on the arrest of Martin Lee…
Most Westerners look at Hong Kong, observe that the big protests from last year have gone away, and believe the way ahead is by letting things continue to cool down. Hong Kong people, after all, aren't looking to overthrow China's government; all they want is to be left alone. So Westerners have a hard time fathoming why Beijing is being so heavy-handed, treating an elderly barrister who wouldn't harm a soul as a criminal.
But this isn't how a Communist thinks. He sees protests in Hong Kong as a challenge that must be crushed, at all costs. And when he looks at that 81-year-old lawyer, he doesn't see a gentle old man. He sees an enemy brandishing the most fearsome weapon of all: the truth.
And another China Heritage translation from Geremie Barme – Lee Yee on Margaret Ng's Way, going back to her essay as a schoolgirl patriot in the early 1960s.
Brian Fong in The Diplomat on how the tables could turn, and the West could see Hong Kong as a CCP-influenced threat.
The UK's Spectator gets into China hawkishness with coverage of another needy, whimpering Beijing diplomat, and a merciful reassessment of Britain's sad bid to be Xi Jinping's buddy.
A very long account in the Harvard Crimson about how the oh-so-classy university ended up prostituting itself for CCP cash and pats on the head.
The Oz Daily Telegraph further refines the noble art of massively annoying the Chinese consulate.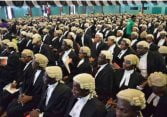 From Lagos's Daily Post, Nigerian legal types sue China over the You-Know-Where Virus. (And – seriously – do those normally laughable/unflattering wigs look cool on a load of black lawyers or what?)
And the Globe and Mail digs into the authoritarian-friendly background of the WHO's Mr Dr Tedros (trigger warning: comes complete with references to stuff like 'acute watery diarrhea').
Over in Taiwan, abducted book-seller Lam Wing-kee reopens Causeway Books in Taipei (includes a previous HK Free Press video interview).
For history buffs, the Nation looks back at Hong Kong's early 1970s radical leftists.
Finally, in the business department, The Wire China tells the story of the epic collapse of Luckin…
Luckin, in many ways, exemplified the China hype. What Baidu is to Google and Xiaomi to Apple, Luckin was supposed to be to Starbucks — a homegrown competitor, backed by state and private financing and cheered on by state media. Luckin promised low-priced coffee, ubiquitous store locations, and delivery to your home in 30 minutes. It also promised a way for global funds to invest in China's economic miracle…