Hong Kong's business establishment are feeling the heat as the old cozy tycoon-bureaucrat relationship gives way to direct Liaison Office control of the city. The outgoing boss of the HK General Chamber of Commerce puts on a brave face by overlooking the rapid shift in the power structure and asking for clarity about what happens after 2047: 'We must start the dialogue with Beijing now'.
But the CCP doesn't do dialogue. You can have one of two relationships with it: either you kowtow and obey, or you are the enemy and a threat.
The tycoon caste had their chance 10-20 years ago. They could have practiced a bit of enlightened self-interest and accepted a need for more inclusive and responsive governance. Instead, they went full crony-snouts-in-trough screw-everyone-else. Today, they're shoved to one side as Beijing shreds rule of law. Too late now.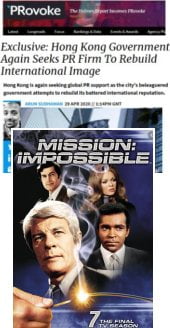 The bureaucrat side of the old alliance is also fighting a rearguard action. The Hong Kong government embarks on a second attempt to enlist public-relations expertise to restore the city's battered international image. (Link includes fun tender documents.)
Like their business buddies, the officials are desperate and naïve. You can't PR your way out of extensively documented incompetence, police brutality, banana-republic stunts like round-ups of lawyers, and Beijing's unconcealed, unilateral ending of local autonomy. The Liaison Office is now pretty much even dictating the Hong Kong government's own press statements (compare CCP-style shrieking-hysterics with the administration's overblown mouth-frothing about foreign interference).
As if to prove the point, the HK Police find yet another of their shock-horror terrorist bomb-factories. (What is this – the fourth, fifth?) This time, the evil radical fanatics have chosen to store their explosives in a disused school that also serves as a police training site. World's dimmest terrorists, or least-original cops?
We are of course expected to beg for anti-sedition National Security laws. If you didn't get the message, the Liaison Office delivers a major freak-out rant over Friday's (barely noticeable) protest activities – 'radical protesters re-instigating and inciting violence to disrupt society once again and plunge the public into panic and pain, and ignoring the rules of the free market, plus political abduction of the economy, by enemies against the people who are destroying Hong Kong's hopes'. Otherwise known as going to pro-yellow restaurants.
In whatever shape or form they come, Article 23 laws will (among other things) criminalize opinions, enable censorship, institutionalize intimidation and generally undermine rights, freedoms and rule of law. Nothing the General Chamber or some wretched PR agency can do about it.