If the Hong Kong government thinks it might be OK to send its precious staff back to work, we can assume it is probably safe to relax the city's internal anti-virus social-distancing regime. But there are three challenges.
First, can panicky types get over wetting themselves at the sight of anyone socializing? What will nervous ninnies worry about instead?
Second, will the police oppose easing the controls, which have become a convenient pretext for the suppression of political gatherings, protests, shopping-mall singalongs and other national-security threats?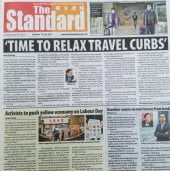 And most of all, can officials resist the inevitable calls to open up the borders to the tourist hordes and risk unleashing the pestilence so their landlord friends can hike the rents back up?
For a good summary of Hong Kong's success in quashing the virus, and the dilemma concerning cross-border and international travel, see David Webb's latest.
The worst-case scenario is that Hong Kong lets Mainlanders pour in to give Beijing face (though at the moment Shenzhen authorities are if anything more aggressive about imposing quarantines on inbound travel).
The ideal outcome is (see Webb) the establishment of an international community of virus-free zones, allowing Hongkongers, Macanese, Taiwanese, Vietnamese, New Zealanders and Icelanders to travel freely among their own jurisdictions and the rest of the planet just has to stay put. Maybe for decades. Sounds pretty good.