Reuters gets another exclusive scoop as our normally tight-lipped judiciary open up…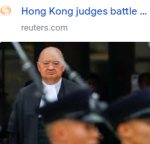 Some in the city's legal establishment are now bracing for the possibility that China will begin to meddle in the appointment of new judges… Any intervention in the selection process, said one of the justices, would likely spark resignations on the bench. "We're worried that they are losing patience, and will find ways of tightening the screws," the judge said, referring to the Beijing leadership. "We know from our interactions with senior mainland judges that they just don't get Hong Kong at all," said the justice, who spoke on condition of anonymity. "They always want to know why Hong Kong is so confused and chaotic, and not 'patriotic.'"
This comes as Chinese officials blast pro-dem lawmakers for their filibustering – even asserting that they are committing offences – prompting an inevitable hoo-hah over whether this constitutes 'interference'.
It definitely constitutes continued Mainlandization of Hong Kong. At best, it's an attempt to smear and demonize the opposition; more likely, it is a sign that Beijing is planning to use more quasi-legal tactics to disqualify pan-dems in the LegCo elections in September. Either way, it sends a message that – to Beijing – the legislative branch exists to rubber-stamp the CCP-appointed executive.
It is a clear assertion that the opposition, who have a mandate from the people, are the problem – not the appointed government. (The pan-dems might help their case if they made more of this angle.) And, in addition to Mainland interference in Hong Kong's (in fact LegCo's) internal affairs, it is a direct challenge to the notion of separation of powers.
The judiciary and the legislature are in the same boat: the Leninist system into which Hong Kong is gradually being absorbed is about total control. When Liaison Office boss Luo Huining drones on about 'improving' and 'strengthening' legal systems and law-enforcement, this is what he means. Checks and balances and independent institutions are threats to national (ie CCP) security, and their days are numbered.