Asia-wide lockdown-boredom combined with anti-CCP sentiment over the weekend to create the Great #nnevvy War.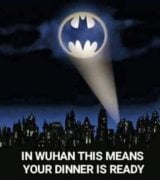 Long story short for those self-disciplined enough to spend less than five hours a day on Twitter… Following a perceived slight by a Thai showbiz couple, hyper-nationalist Chinese wumao launched a barrage of what they imagined to be hurtful insults against the Land of Smiles. Not only did Thais gracefully deflect the supposed insults in such a way as to highlight the wumaos' own inadequacies, they attracted an online alliance of Hong Kong, Taiwanese and other free Asians in a frenzy of Mainland-propagandist-mutilation-by-memes. (For the unenlightened, pro-dem District Council member Lo Kin-hei offers a video Dummy's Guide to Wumao and Associated Memes.)
The #nnevvy massacre seems contained within (or incomprehensible beyond) the Twitter bubble, so is unlikely to lead to shattering geopolitical shifts in the real world. But it's a vivid illustration of how anti-CCP feeling runs across a certain pan-Asian demographic. (Also interesting for its memes-with-English lingua franca.) And of course a glorious example of Beijing's acutely cringe-making soft-power shortcomings.
Which rather neatly brings us to other weekend excitements.
Apparently inspired by Beijing's blame-foreigners-for-the-virus PR strategy, Guangzhou decides to round up black people – damaging China's friendly/'win-win'/neo-colonial African relations, not to mention the reputation of McDonalds. Followed by the inevitable 'foreign-plot' tantrum.
And as if that's not enough (hey – it was a four-day weekend), Chinese diplomats are caught stooping to new depths of odiousness by pressuring officials in Germany and Wisconsin to kowtow to the Emperor as a mark of awe for the CCP's wondrous handling of the COVID outbreak. Not so much odious, perhaps, as pitiful.