First, a clarification from the Hong Kong Police: they have not, as previously announced, uncovered terrorists building a hydrogen bomb. It was a 'chlorine bomb'. This is the same police force that is now presuming the right to take down and arrest admins of websites for carrying 'seditious' material. (Do they mean 'bottle of bleach', perhaps?)
While the HKPF are fighting imaginary terror plots, two real global wars are taking place: one is between humanity and the Wuhan virus pandemic; the other pits truth against lies.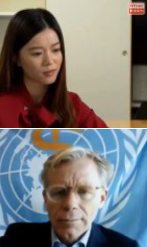 The World Health Organization is a major participant in both conflicts. And the UN body magnificently wins Cringe-Inducing Video Clip of the Week Award as one of its top Beijing-coddling officials pretends not to hear an RTHK journalist's question about the Country that Must Not Be Mentioned. The doctor then cuts the Skype connection in a valiant attempt to feign invisibility. Inspired by this approach, the WHO promptly erases the guy from its website.
Oddly, a dash of public-relations sanity suddenly appears. Out with the silence and even with the mumbled 'China's Taipei and environs Province of China' references. In what could almost be 'a move certain to anger China', a WHO press release gingerly acknowledges that Taiwan exists and has a (rather enviable) record of its own so far in handling the virus. But not before millions of people have watched the video and relished with glee the horrifyingly embarrassing performance. They don't often come this juicy.
Although the WHO can't openly address its quandary, the justification for flattering the Chinese leadership and promoting its fictions is presumably that it's the lesser of two evils. The alternative is that China refuses to cooperate at all, and the world is even less equipped to fight the disease. But the planet's taxpayers can be forgiven for wondering how the CCP managed to convince Mr Tedros and colleagues to submit to the CCP's exceptionalism so enthusiastically – and how/why the bureaucrats imagined the rest of us wouldn't notice/mind.
And people are noticing. Mild-mannered Scandinavian dignitary Carl Bildt blasts the CCP/WHO for the cover-up. Italians are seriously pissed with Beijing. And (even if it is the Daily Mail) – could the UK government be waking up to the true nature of the CCP?
Meanwhile, the 'soft power' goes on giving. Beijing encourages racism to facilitate its instant rewriting of history to portray the pandemic as a foreign imported threat. And don't forget that you can drive the virus out of the body by rubbing your belly button (in the right direction).