Not for the first time, Hong Kong Chief Executive Carrie Lam abandons a dumb idea after everyone points out it's stupid. But instead of waiting months while everything blows out of control, she has made her U-turn within days.
The 'rethink' is over the matter of whether banning bars and restaurants from selling alcohol would help counter the spread of the Wuhan Virus.
To Carrie and her advisors, there was some sort of compelling and intuitive logic to the idea – but it was hard for them to spell it out as it concerned icky people doing the sort of icky things that they apparently do. Skeptics doubted that preventing the icky things was practicable or very effective, or if there was even any connection. It could have been very confusing, but fortunately vested interests who would have lost money waded into the argument, and an instant climbdown ensues.
I declare the weekend open with some virus-laden links to browse through over a pint at your local pub…
Human Rights Watch blasts Cheng Lai-king's arrest for 'seditious intent': "Arresting a pro-democracy politician for seeking police accountability is political persecution, not legitimate policing," The Atlantic sees a gloomy future for rule of law and independent courts in Hong Kong.
On the other hand, the US magazine is wowed by Hong Kong's response to the Xi virus. Singapore's education minister explains why there's no need to shut schools.
Reuters describes the virus's impact on China's economy as 'eye-popping'. And Foreign Policy explains why Xi Jinping is desperate to get the economy back on its feet.
A quick article from the Finnish Institute of International Affairs on how the CCP's insecurity is feeding into China's foreign and domestic policy.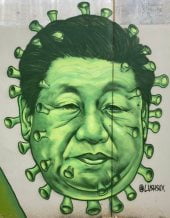 Many calm and thoughtful people tell us that, with a deadly pandemic sweeping the world, this is not the time for finger-pointing. But common sense surely says it's never too early to lay blame where it's due and makes the bastards responsible squirm. The Hill gives both Beijing and the WHO a swift but well-aimed kicking. And War on the Rocks ponders how we could sue China for trillions for unleashing the virus on the world.
China Media Project delves into officials' warnings to Wuhan hospital staff to 'speak politics' as a way of silencing them in the early days of the outbreak. In HKFP, Reporters Without Borders look at how China's censorship contributed to the pandemic. ProPublica on how China uses Twitter to push propaganda on Hong Kong and the coronavirus. Republican senators are calling for a US counter-offensive against Chinese disinformation.
And there's more! National Review wags (rather than points) its finger at China's mask-hoarding habits. And here's an interesting thread on how a United Front creepo in the Czech Republic seems to have been profiteering from face masks and other medical equipment, and diverting supplies intended to be humanitarian aid and other classic murky sordid patriotic businessman overseas stuff.
On a lighter note – from HKFP, play a game of 'Spot the Illegal Structures' with some soothing aerial views of Hong Kong.