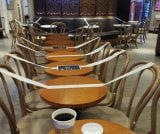 The Hong Kong government's latest round of anti-virus measures have closed swimming pools, gyms and cinemas entirely. Seating in restaurants and coffee shops has been reduced by at least 50% to give patrons (rather pleasant) space. Officials have also seen fit to take public barbecue pits and kids' playing-ground equipment out of service. Thus we are encouraged to do social-distancing, not mingle and preferably stay home. During leisure time.
But then the morning comes around, and half the Hong Kong population board buses and MTR trains and walk along narrow, crowded sidewalks and squeeze into cramped elevators. The 'no groups of more than four' and 'keep 1.5m apart' rules suddenly don't apply. It's commute-to-the-office time, so such precautions are somehow unnecessary. (Except for civil servants who are 'working from home' ha ha.)
What is the official logic for this inconsistency? 'We must strike a balance'? 'We are monitoring the situation and may consider additional precautions in due course and are hoping to achieve consensus with various sectors'? 'The Li Ka-shing effect that keeps typhoons at bay during daytime Mon-Fri works on viruses too'? 'Well [shrug] it's better than nothing'? (This last one is actually honest and makes some sense.)
Just as you thought you can't stomach another article/post on face masks – here's an interesting one about the legal and other pitfalls of sourcing the things…
China would prefer to see its good quality PPE go to countries it likes and not  to countries it doesn't like. 
And, because we can't resist, some more details on how the WHO snubs Taiwan, even when the country offers to share important info.