What's the last thing Hong Kong needs right now? Yes – Regina Ip getting in everyone's face. So here she is, offering to help sue hospital staff for striking, and getting slapped down by the government after claiming officials will use price controls to fix the city's surgical-mask shortage.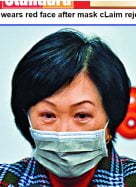 The lawmaker, Executive Council member, Belt and Road fan club founder, and former Security Secretary's hyperactivity is due to a sad delusion. She believes that her politician's biological clock is still just about ticking and there is a chance that Beijing might yet make her Chief Executive.
Or maybe it is not a total delusion. Carrie Lam is currently lying flat, strapped into the execution machine in Kafka's Penal Colony, which slowly etches the name of the crime into the prisoner's body. This is to punish not so much Carrie as the whole of Hong Kong. The pain continues for what seems an eternity, but at some point death finally comes. Beijing will have to appoint someone else. It could be someone new, to symbolize a fresh start. Or – you may feel more confident in imagining – the CCP might just inflict a new round of suffering on the city. Reg could still have her day.
Elsewhere… For a moment there, Singaporeans were mocking Hong Kong for stripping shelves bare of rice and toilet paper. Then the contagion of fear struck the Lion City too – despite its 1,500-mile distance from China, oh-so competent governance and soothing words from more-charismatic-than-Carrie Prime Minister Baby God.
And the dirty little secret/twist in the tale: it was – Singapore's Malay and Indian citizens noted – ethnic Chinese who were freaking out in the supermarket aisles. Years of contradictory ruling-party brainwashing about being both obedient and venal combine with 'race-based stress' to create anarchic mayhem. In the noodles section at least. It says here. I really, seriously, couldn't possibly comment.