I dropped by the local Wellcome supermarket five minutes after its 8.00am opening yesterday. People were already struggling to carry away multiple 12-packs of toilet paper. There were none left inside, and the shelves were also empty of rice and bleach. Just like in all the news and social media photos – but it's weirder to see it in real life.
Surprisingly, the Bloomberg opinion piece likening Hong Kong to a 'failed state' has not yet triggered a whiny press-release tantrum from the government. The article focuses on a collapse in government credibility and legitimacy, official dithering over things like face masks, and of course the panic-buying. (It also spots Carrie Lam's narrow bureaucratic focus – where closing museums counts as decisive grand strategy.)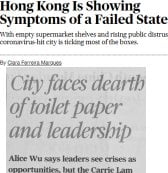 Perhaps the petulant press statement will have to wait while our officials beg the Boy Scouts for help in quarantining possible plague carriers.
While comparisons to Russia's crisis in 1998 or Venezuela may seem far-fetched, these places have never claimed to be international financial hubs or a 'World City'.
In some ways, the Bloomberg article goes easy on the Hong Kong authorities. It largely overlooks the transformation of the police force into a tool of political control. If there was ever a time to get the cops back into their smart blue uniforms, the WuFlu scare is surely it – instead, they are whacking frightened residents in Sai Kung and Tai Po. And while the article hints at the weakening of Hong Kong's legal system, it doesn't mention the increase in politicized prosecution and other administrative decision-making.
The column does say that the administration's lack of contingency plans and shambolic performance suggest 'deterioration', which should seriously worry the business sector. And 'the next shock will be worse'.
Speaking of which, HK Free Press looks at the backlog of catch-all 'riot' and other cases that will be going before the courts over the coming couple of years.
I do actually need a new bottle of bleach. Will just have to gargle with absinthe for the time being.