As if she hasn't done enough to make Hong Kong squirm with embarrassment, Chief Executive Carrie Lam pleads with consuls-general to help the city procure surgical masks and other protective equipment, and not to impose travel restrictions on local residents.
Her audience did not mince their words. "If your citizens planning to travel to our countries are not carrying the plague," they responded angrily, "why do you need the face masks so badly? Huh?" Or they would have – but they are diplomats, so held their tongues.
Instead, the US Consulate announces that it is letting non-essential staff take their families back to the safety and security of (say) Baltimore. Which brings the Hong Kong US mission into line with those in Beijing and Shanghai.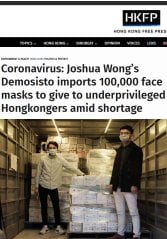 The last time Carrie addressed all the consuls (if I recall correctly), it was to assure them that her Extradition Bill was a fine and dandy idea and nothing to worry about. Since then, her main contact with them has been in the form of venomous freak-outs about How Dare You Interfere in Our Internal Affairs, when their home governments had the temerity to voice concern about the business hub's descent into civil unrest.
Meanwhile, the Hong Kong Free Republic's provisional Secretary of State Joshua Wong is effortlessly exploiting the Revolution's soft power among overseas allies to source face masks – our fledgling nation's equivalent of oil wells and gold reserves.