Here's a claim that Chinese authorities are rigging the WuFlu data to fit a predetermined mortality rate. Patriots, on the other hand, may prefer the charts showing a 'very rosy picture' of declining new infections.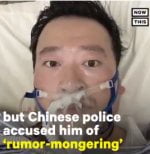 If you like your news simultaneously good and bad, there's Dr Li Wenliang: after mentioning the new disease online in late December, he was intimidated into silence by Wuhan police; he later caught the virus, and was reported to have died of it yesterday, before state media backtracked and insisted he was still alive – but they now seem to say he did die (subsequent to the time he didn't, so we're right). Great moments in 'public opinion guidance' CCP-style.
Hong Kong has succumbed to panic-buying of toilet paper, rice and other commodities. The city has a history of refugee-society skittishness leading to near-legendary frantic scrambles to redeem cake coupons or get free Snoopy dolls. But we now have a government that is beyond incompetent, beholden to the aforementioned CCP, and devoid of credibility and legitimacy. Officials were last seen dithering about school exams and sorting out how to implement the quarantine they announced two days ago. The only thing irrational about it is that Hong Kong apartments are too small to store all those toilet rolls. (Having spent time in North African villages many years ago, I can manage perfectly well without it.)
Art Basel is cancelled. Some gallery owners had been worrying that taking part would be an endorsement of Beijing's oppression of Hong Kong – the fear of quarantine and a toilet-paper famine tipped the balance.
Just checked to see if the government has advised against panic-buying. Seems not. Very wise (or maybe they're too dim to think of it).
I declare the weekend open with a range of illuminating reading matter…
Asia Dialogue examines how Beijing is losing Hong Kong – not much new, but the last half dozen paras are interesting.
An in-depth – and damning – account from Chublicopinion of how Wuhan officials suppressed news about the WuFlu outbreak.
In a similar vein, China Media Project on how China's official media handled – or didn't handle – the WuFlu outbreak in January.
How is Beijing's supreme central core tackling the crisis? The Jamestown Foundation offers a nerdy look at why the Central Leading Small Group for Work to Counter the New Coronavirus Infection Pneumonia Epidemic comes under Li Keqiang rather than the Emperor-for-Life.
ChinaFile asks whether WuFlu will damage the CCP's legitimacy. If you think it obviously must, Asia Dialogue looks at why China's younger generation seem so pro-CCP.
You know 'traditional Chinese medicine' is unscientific junk, but here's a reminder.
On to Formosa, and Ketagalan Media on the impossible position the KMT finds itself in trying to convince Taiwan it wants to be annexed by China.
Beijing interrupts this healthcare crisis with some mouth-froth about how any attempts to leverage the virus to promote Taiwan independence is hitting a raw nerve (or 'doomed to fail'). Equally amusing, Anonymous hacks into the UN's website on behalf of Taiwan.
As Hong Kong's luxury-brand emporia shut their doors (though not enough), an older SE Asian Globe article about how the glitzy overpriced-garbage retailing/ultra-high rents phenomenon also affects Singapore.
And lastly, some subversive music before the PRC collapses: the Chinese national anthem in the style of Epaksa. (I had to look it up too – Epaksa is the Korean behind an immensely annoying musical genre known as 'techno-trot', as seen in this Japanese commercial for cockroach spray.)