All right-thinking decent people in this part of the world are experiencing a glow of satisfaction following the results of Taiwan's election on Saturday. It is hard to choose which commentary on Tsai Ing Wen's victory gives greatest pleasure.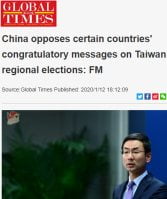 I rather like this…
Some western officials showed their eagerness of continuing using "Taiwan card" as a way of containing the rise of the mainland by praising the elections "as vibrant democracy," and even lauded Tsai for seeking so-called stability with the mainland … [Pompeo, etc] UK Foreign Office also lauded that the elections "are testament to Taiwan's vibrant democracy." … The Chinese Ministry of Foreign Affairs on Sunday expressed strong opposition to Western officials congratulating the reelected regional leader, saying such behavior violated the one-China principle.
There's the from-a-different-planet view…
The one-China principle is widely known to the world and has a strong moral foundation.
…and the ever-popular ranting mouth-froth diatribe…
As people of insight and the media on the island have said, this is obviously not a normal election. Tsai and the DPP used dirty tactics such as cheating, repression and intimidation to get votes, fully exposing their selfish, greedy and evil nature … This temporary counter-current is just a bubble under the tide of the times.
There's this…
Zhu Songling, a professor at Beijing Union University's Institute of Taiwan Studies, said the DPP had done a lot in the election campaign to create cross-Straits tensions …. [he] said the violence by protesters in the Hong Kong Special Administrative Region in recent months was also used by the DPP as a weapon against the mainland for political benefit in the election.
And the really heart-warming Panda-tantrum-as-veiled-threat-by-whiny-sore-loser stuff, like this…
"The ball is always in our court," Song [Luzheng, expert at the China Institute of Fudan University in Shanghai] said, noting that Taiwan regional leader and politicians should thoroughly take into consideration potential risks before brazenly provoking the mainland. 
…and this…
"The fact that the Chinese mainland is getting increasingly stronger and the Taiwan island is getting weaker is an inevitable reality," added the Global Times.
Perhaps best of all is the Hong Kong Cat Society, which congratulates Taiwan's felines and urges the local ones to follow their example and put their human 'slaves' in power via universal suffrage.