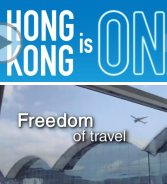 Brand Hong Kong (taxpayer-funded exponent of etiquette to visiting barbarians) declares that 'Hong Kong is On' and launches its new hit video, explaining that…
After a difficult time last year, #HongKong is fully switched-on to the opportunities ahead as a free, open and welcoming society … with a raft of freedoms intact.
(Why does 'raft' make me think of 'sinking ship'? Anyway, do be sure to scroll down the link for a multitude of delightful comments from Hong Kong taxpayers expressing fulsome and warm appreciation of the PR office's creative efforts.)
With exquisite timing, Hong Kong Immigration turn away the head of Human Rights Watch at the airport. Beijing promptly declares that it makes the decisions on these things. (Here is a quick and incomplete list of other people denied entry.)
Wait! There's more! One of the SCMP's once miss-able but recently amusingly irritable columnists suggests that we trash the 'Asia's World City' branding as redundant. His suggested alternative approach would leverage the 'energetic, chanting crowd' as a symbol. Which sounds clever. Then we recall that the government is determined to keep the populace 'energetic and chanting' by trying to push through the National Anthem (Compulsory Standing-Up in Adoration) Ordinance. So maybe not.
Readers' Poll
The media need to decide on a pithy description for Luo Huining, the new director of Beijing's Liaison Office in Hong Kong. Should it be:
C) 'a veteran troubleshooter' with yes really uncanny parallels to Chris Patten
D) 'a knuckle dragger'