I declare the weekend open with the usual exquisitely curated artisanal links…
Trade mag Holmes Report on Hong Kong's San Francisco trade office inviting PR companies to 'inspire and enhance confidence'.
Sebastian Veg tries to find cause for optimism in the recent District Council elections…
…to some extent, there is still an expectation that the narrow path opened up by universal suffrage can offer a way toward further de-escalation, even though a full return to civil peace may not yet be within reach.
This presumes Beijing sees representative government as a solution. Asia Sentinel's more realistic wrap-up of the crisis describes Hong Kong as 'now trapped in a Communist-colonization nightmare'…
Beijing has singularly failed to win the 'hearts-and-minds' of its Hong Kong citizens since 1997. A one-party police state, ruling top-down through fear since 1949, preserving power for its party elite, cannot adjust to transparent, accountable governance.
Human Rights Watch joins in the criticism of the Hong Kong Police.
Mark O'Neil thinks the Chinese government will keep Carrie Lam in office for the rest of the year in order to rush Article 23 national security laws through. All the signs have been that even Beijing isn't stupid enough to try that – but what a gift to the protest movement it would be!
A measure of how the world is watching Hong Kong: Burma's Catholics are concerned.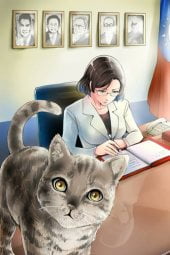 On an entertaining note, M+ looks at Hong Kong in computer games over the years.
Over to Renegade Province: a reminder to mind your language when discussing Taiwan; Tsai Ing Wen cat manga; and you might just have time to read this big article from the Lowy Institute on the country's election before it takes place tomorrow.
A great account from Claremont Review of Books of how Dengism replaced old Stalinist ways, and how Xi has taken it from there…
Under Xi, corruption remains instrumental – not only in steering the economy in the direction the party wants it to go, but also in ensuring that high-level civilian and military officials have a stake in preserving the system. It is not a matter of one audacious embezzler here or there. Rather, it is the entire Mafia-like system itself, wherein each of the lower-downs kicks up to his boss until the money finally reaches the most powerful body in the system—the Standing Committee of the Politburo of the Communist Party of China.
…a tiny Manchu elite held on to power for 270 years. The comparably tiny Communist elite is unlikely to equal that record.
China Media Project on the return of Mao's adulatory title – 'possibly the start of a new round of worshipful praise for China's top leader' (because you can never have enough, can you?)
Evan Osnos's magnum New Yorker opus on the future of the US relationship with China.
On a related note, Slate asks Why is Harvard training the next generation of CCP leaders?
A Sydney Morning Herald correspondent, after her kid's globe is confiscated, looks back at changes in China in last few years.
And a long read from Echo Wall on how China manages to complete massive complex infrastructure projects so unbelievably quickly.
My gargantuan challenge for tomorrow is to go back to the HSBC Platinum-Jade-Premier Valued Customer service centre and insist they replace my battery-exhausted online-banking 'security device' without forcing me to go through the horrifyingly traumatic and fruitless button-pushing, waiting-on-hold phone system, which – by the time I slam the phone down in despair – turns me borderline homicidal. Just in case you never hear from me again.