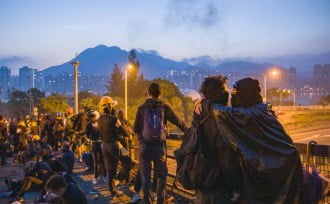 HK Chinese University looks more like Hamburger Hill as the police are apparently consumed by some sort of obsessive-compulsive need to assert their authority over the campus at any cost (and last time I checked, still hadn't).
Open any history book about a modern-era popular movement against the authorities in the Greater English-speaking world, and somewhere around page 200 or so, you will find the part where (to use the authors' invariable phrase) the government starts 'enrolling special constables'. And here we are. These books usually last about 300 pages.
While many idealistic types are disappointed that Western governments are not doing more, the last few days' events in Hong Kong have attracted renewed overseas interest. From the Financial Times…
Examples of police double standards when it comes to dealing with pro- and anti-government protesters are too numerous to count. Members of criminal triad groups who attack anti-government protesters have been dealt with incredibly leniently, while anyone who looks like they might be a demonstrator is at risk of being beaten unconscious.
The Independent…
Anyone wanting to experience the sudden imposition of a police state and white terror, try a short break in Hong Kong.  
And, beyond mere commentary, a damning Korean television report (follow the links) featuring someone claiming to be a Hong Kong cop. (Among the claims: that senior police management let triads overrun Yuen Long MTR on July 21 in order to convince the Hong Kong public how much they need the police. So deranged, it must be true.)
The HK Police have become the story. Every pepper-spraying of a pregnant woman, every clubbing of a motionless arrestee lying on the pavement, every handcuffed schoolgirl further isolates and diminishes whatever passes for a Hong Kong government.
A small sign of establishment nervousness comes as 125 more-or-less prominent public figures sign a statement calling for the November 24 District Council elections to go ahead. (One, John Tsang, goes further and calls for an inquiry into the police.) They include moderate pan-democrats, but also former government officials, academics and business types (like landlord Allan Zeman) who at least straddle the bureaucrat-tycoon/shoe-shining/Beijing-friendly fraternity.
District Councils have no power, but the elections will represent a glorified public opinion poll (in which the pro-Beijing camp will probably do badly). Postponing them would be inflammatory. But the issue is conveniently bland and uncontroversial enough for anxious pro-establishment people to use as a signal – not least to Beijing – that they want to distance themselves from this wreck of an administration being dragged down by an out-of-control police force. Whether this is out of conscience or self-preservation I couldn't possibly comment.