It was 100% predictable that Hong Kong Chief Executive Carrie Lam would have nothing new or constructive to say at her press conference after yesterday's Mayhem Monday.
If we want to examine her words carefully, we might detect an extra brittleness-cum-desperation in her tone following her meeting with Xi Jinping last week. She stated that it was 'wishful thinking' that the government would yield to protesters' demands, adding that the protesters are 'enemies of the people' – a phrase with a dark history. (By some definitions, Carrie's own words are an act of violence.)  
But essentially she just reminded us that Hong Kong does not have a functioning leadership: she is not empowered to make any decisions (even if she had a clue how to), and the supreme authority in Beijing is similarly unable – for whatever reason – to provide any direction.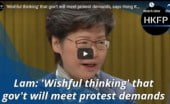 So all that's left is to order the police to continue tear-gassing the city until social harmony returns.
The authorities seem to be grasping at the hope that continued police repression of protests, other gatherings and displays of opposition will eventually wear everyone down. You might think that, after five months, this approach is yet to yield much in the way of success. But Hong Kong bureaucrats – and probably the cops in particular – are well-known for focusing on the trees rather than the forest. To them, a decline in the number of mega-marches (following MTR closures, the mask ban, thousands of arrests) suggests they are on the right track. Another three or four months should do it!
In their own 'wishful thinking', they fail to see that resistance is organic, decentralized, flexible, 'like water'. And widespread. At noon yesterday, white-collar types filled the streets and walkways outside my office in Central chanting 'murderer' and 'rapist' at riot police (who, after giving great consideration to the many and varied options at their disposal, went for more tear gas). Tomorrow it will other people, in different places, doing something else (complete with an equally original and insightful police response).
It looks like we will be waiting months for Beijing to do something.
In the meantime, don't forget the Hong Kong 'business community' – the local tycoon caste and the multinationals. While residents naturally rejoice at the lack of tourists, the owners of the malls and hotels are looking at months (at least) of suffering. Landlords must also worry that expatriate senior executives with delicate wives and precious kiddies in their rented luxury apartments might start moving offshore.
These local and overseas business folk are accustomed to having a government in Hong Kong that does everything for them – yet it is now actively undermining their profits and net worth. And they cannot speak out, for fear of upsetting Beijing. It will be interesting to see at what point, especially if the stock and property markets seriously drop, the pain is such that they openly squeal.
Some more for anyone who feels insufficiently depressed…
A night of vandalism in Tin Shui Wai…
…it was targeted and surprisingly controlled. It's about Beijing's and HKG's political failure. In a place with the social trust and development HK has, only a catastrophic meltdown in leadership can cause scenes like this.
Why violence can only get worse…
Is there a way back? In theory, yes. In practice, probably not.
…It appears more likely that Beijing will follow the course outlined following the recent Fourth Plenum leadership meeting: greater control, the implementation of vague "national security laws," and perhaps even martial law – almost certainly enforced by Hong Kong's police bolstered by mainlanders, rather than by the Chinese army. It's unlikely that this death will be the last.
And (from polling results pre-dating this horror) the latest figures on public trust in the HK Police.
On a brighter note: Bette Midler chimes in.