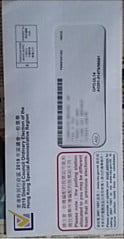 This week's Out of the Mouths of Babes and Innocents Award goes to Hong Kong's deputy leader Matthew Cheung, who blurts out that he has no idea why people in Hong Kong are so angry at the government. This contradicts two official lines: that we know what's going on; and that the majority of the population back us. It is reassuring to see that the man is human.
Top officials gathered last night for some sort of emergency meeting. Apple Daily reckons that, under pressure from Beijing, they were considering: ramping up police use of force; neighbourhood curfews; and cancelling the District Council elections (just as they sent me my voting card yesterday). This is depressingly dimwitted enough to sound credible.
Writing in HK Free Press, UK activist Benedict Rogers laments the inanity of trying to solve Hong Kong's crisis of government and police legitimacy through more tear gas and arrests. However, he lays the blame squarely at Chief Executive Carrie Lam. While the woman is undoubtedly incompetent beyond belief, this is a bit like blaming a toddler for having soiled pants. The buck stops in Beijing, where (as CCP spokesmen constantly remind us) ultimate authority lies.
What is flabbergasting is why not one of Carrie, Matthew and all the other sad mediocrities…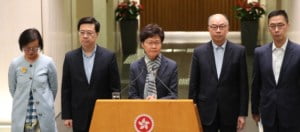 …will tell Beijing that this problem cannot be solved by force and that they will resign rather than cooperate with this stupidity that is killing their home town. Not one.
Bill Bishop in his Sinocism newsletter today says…
There however seems to be no obvious pathway to the restoration of anything resembling order in the city. It appears Xi Jinping has decided to allow chaos to increase, believing that the growing contradictions inside Hong Kong society will ultimately lead to so much anger from most of the Hong Kong populace towards the "radical" protestors that the protests will eventually end…
The growing chaos and economic pain in Hong Kong does have real propaganda value for the Communist Party. The CCP has railed for years against foreign interference and color revolutions, and now the propagandists can easily argue that one has arrived in PRC territory, and as in other countries it has brought chaos, violence and economic pain, and that the stability that the CCP brings demonstrates the superiority of the PRC system.
Beijing and its propagandists are indeed increasingly portraying the situation as a cataclysmic struggle with foreign-backed terrorism. To add to the ambience, Chinese authorities have arranged 'evacuation' of Mainland students and are encouraging social media stories like the one saying Hong Kong police shot protesters to protect (non-existent) buses of cute Mainland schoolkids from attack.
China analysts know that when the CCP focuses on its domestic audience it often alienates the overseas one. Maybe Hong Kong is to be the ultimate example.
Local officials are still trying to maintain some sort of 'business as usual' façade. Only with reluctance did the government declare schools closed today. Xi's 'Extra Tough' directive implies far more disruption to life and business. Curfews and additional police-rampaging must mean a further collapse in tourism, cancellations of conferences and events, closures of retail businesses and some suspensions of bank and market operations. It will mean departures of expat executives, and perhaps such phenomena as bank runs, panic-buying, even looting. Not to mention increased resistance from the population at large.
Are the CCP prepared to destroy Asia's World City in order to save it? Don't they fear a pyrrhic victory (see Minxin Pei)? Will influential interests with Hong Kong exposure – CCP elites, local tycoons, overseas investors – challenge the Emperor? Or will our establishment do nothing and accept their fate, as promised by students, that 'if we burn, you burn'?
It's hard to believe that no-one is going to do anything as Beijing tries bludgeoning its most developed and international city into submissive ruins. He says, hopefully.