If Beijing had kept its hands off and allowed the local authorities to amateurishly bumble and fumble their way through things, Hong Kong's Summer of Discontent/Water Revolution could at least partially have fizzled out by now.
Imagine if the cops hadn't gone paramilitary, teamed up with triads, doused whole neighbourhoods with tear gas, gone nuts in the MTR, arrested and beaten bystanders or disappeared people into their sinister border detention place – and if the CCP hadn't hijacked Cathay Pacific or the MTR. Our pitiful local officials might have retained a shred of legitimacy by taking ownership of their failures, serving as punchbags and doing some half-credible bleating about reform. The protests would have been calmer and ultimately duller, international media interest fleeting, the impact on tourism far smaller, and the business community would be confident that Hong Kong's institutions were intact.
But to the CCP, which has only a hammer in its toolkit, every problem is a nail. Its instinct is to brutalize Hong Kong into adoring the Motherland. And Mainland methods do not work in a free, open society – instead they are backfiring while the whole world looks on.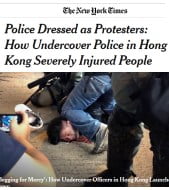 It's still a compelling story. Just recently (paywalls, etc), The NY Times has done cops dressed as protesters and arresting kids, while the Wall Street Journal reports the role of the middle-aged, middle-class middle ground in crowdfunding and 'collecting the kids from school'. (I guess this is what Christine Loh means when she says Hong Kong's 'political middle – the majority – are now in the driving seat'. Doesn't make sense otherwise.)
Amnesty International follows up its blockbuster on police brutality with a mega-report on the decline of human rights in Hong Kong. The US Human Rights and Democracy Act sounds hare-brained, but it all adds to the pressure.
Here is a chart showing roughly monthly changes in the degree of trust/distrust in the HK Police – going up to mid-September. A hardcore (purple) of 10% support the cops throughout. The middle ground (yellow) has evaporated. Strong distrust of the police has gone from 6.5% to 48.3% (and distrust of all degrees from around 28% to 68%). If the methodology is dependable, this is a collapse. It must also be a rough proxy for faith in (local or central) government as a whole.
Of course, even if Beijing had left Hong Kong alone, the fundamental problems of a broken political structure would have festered for another day. The CCP should have got the message in 2014. Instead, they thought once they'd dismantled the barricades and jailed Joshua Wong and Benny Tai, that was it – problem over. Now it's Xi Jinping's most visible and internationally renowned screw-up.