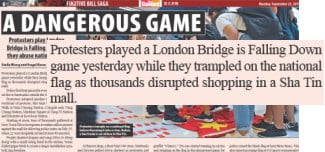 The Standard reports the full horror of young Hongkongers desecrating a shopping mall with their unruly presence, disturbing retail chains owned by pro-Beijing tycoons, and stomping on a Chinese flag. In its structure, the article highlights the disrespect towards the symbol of national sovereignty – but the tone suggests greater shock at the interference with conglomerates' subsidiaries, and utter unspeakable disgust and terror at the threat posed to an almighty landlord's rental income. Or maybe it's just me.
The paper's owner Charles Ho uses a full page of his organ to carry a pompous 'letter to youngsters', telling them to stop worrying about unaffordable housing and get into Bay Area opportunities/tech/Jack Ma and be 'hardworking and innovative'. (Viewable, if you really want, on p.10 of the 'flipping version' on the website.)
Unlike some recent tycoons' open statements, his message is not pure Beijing-shoe-shining (he omits many of the patriotic buzzwords that are obligatory in public acts of CCP-groveling). It seems he genuinely thinks he is imparting useful, even inspiring, advice. As the scion of a tobacco monopoly, the Sing Tao Group proprietor surely has little to offer. More likely, he is comforting himself – and providing us with a nice example of how the Hong Kong establishment desperately wants to believe that it will soon wake from this nightmare and everything will go back to normal.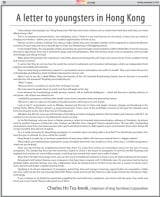 While Hong Kong faces the prospect of the death of its rights and freedoms as Beijing prepares to embed itself into daily governance from now on, our great and good are realizing that their days as a talentless, cronyistic, mollycoddled 'elite' look numbered. To the CCP, they are just boot-lickers who have failed – and any number of Gold Bauhinia Medals won't make any difference.
There is a theory that Hong Kong is currently being used as a weapon in a conflict between rival factions of the CCP. It is a rational and credible explanation for Beijing's apparent inconsistent and indecisive approach to Hong Kong as a government-legitimacy crisis. (Another plausible explanation is that they are clueless and wetting themselves.) Here's a decent argument leaning towards the former position.
On a related note, the South China Morning Post op-ed page has one of its occasional lapses into critical thought – academic Minxin Pei ponders signs of CCP rule coming to an end.
Which bring us back to Hong Kong as National Day approaches: there are a lot of Chinese flags around.