Former Chief Executive CY Leung is angling for a key new job in the next Hong Kong administration. After venting patriotic spleen at companies with the nerve to advertise in Apple Daily, he starts a struggle session against the Education Secretary for being soft on counter-revolutionary radical teachers. Meanwhile, the pro-democracy paper reports that the number of bad elements purged from Cathay Pacific has hit three figures.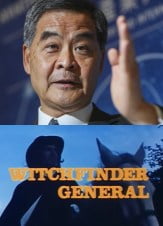 Get used to this. The new Beijing-run Hong Kong can expect political loyalty tests and ideological cleansing in the civil service, universities and schools, other parts of the public sector, and in high-profile companies (themselves increasingly Mainland-influenced). Vengeful employees will inform on their colleagues, murky websites will dox dissidents, or, as with BNP Paribas, orchestrated campaigns will demand rectification.
After the riots in Hong Kong in 1967, leftists were blacklisted and could only find work in patriotic organizations. But their numbers were quite small. Today, perhaps the majority of the workforce identify as pan-dem. CY will be busy. So will relocation and immigration consultants.
One modest but potentially potent method of resistance could be to boycott pro-Beijing companies. To no-one's great surprise, they are so concentrated that it's hard to avoid them without starving yourself. They include 7-Eleven – a pillar of our urban civilization – and both Starbucks and Pacific Coffee. A good reason to hunt out indie coffee shops where they exist; otherwise, help yourself to generous amounts of tissues and sugar sachets.
I declare the autumnal cooler-and-sunny weekend open with a range of hopefully-not-too-depressing reading.
Amnesty International does the HK Police – and the image of Asia's World City takes another dive. (In more bad news for Hong Kong's hapless PR-agency-shunned leaders, US politicians are pushing a Hong Kong Human Rights and Democracy Act, which is sort of pointless but at the same time will lead to brain-exploding levels of Panda-Tantrum. Donald Trump doesn't read The Guardian, but he does watch Fox & Friends. While we fret about tear gas and MTR stations, Hong Kong is a hotspot in a much bigger global clash. We even get a lobby on the Hill.)
An impressive perceptiveness-to-words ratio in a short thread on an academic's remarks on Hong Kong. 'This is a moment to test the wisdom of China's leaders'.
Speaking of The Hill – why this is not 1989.
NPR on how Beijing came to use fake Twitter accounts against Hong Kong's democracy movement.
Introducing Lausan – Hong Kong writing from a 'left perspective' (that's to say rather heavy-going, and not much laughs). Some interesting grappling with contradictions here, as the writers try hard to differentiate their anti-CCP position from that of evil capitalists. They actually meet the challenge head-on: see their articles on the US Act here and here.
From the SCMP, the most elaborate infographic imaginable on Hong Kong's summer of discontent.
From HK Free Press, what Singaporeans think about the situation in Hong Kong. (Whaddya mean, 'Singaporeans can think???')
The superstar of mainstream economists George Magnus offers a long-range outlook for China. They might become the biggest economy in the world, they might escape the middle-income trap – but quite possibly they won't. To take just one problem…
…the combination of weak fertility and rising longevity means that China will age as rapidly in the next 22 years as most western countries have done over 50–75 years, and with much lower levels of income per head and far less sophisticated social programmes.
Chairman Xi Jinping's answer to China's demographic and other challenges: replacing the 10 Commandments in churches with, in all humility, his own quotations. (I guess he could have kept the first: Thou shalt have no other gods before me.)
Last but definitely not least: you liked the harp performance of the 'Glory to Hong Kong' anthem – here's the bagpipe version.