The Hong Kong government and/or Jockey Club cancels both the National Day fireworks, and a horse-racing night. Owing to unforeseen popular uprisings beyond our control.
It's unclear what could go wrong with the fireworks display – the curt official press release mentions 'the latest situation'. Maybe they think crowds will mock the patriotic pyrotechnics somehow. Or they are afraid that, after three months of tear gas and rubber bullets everywhere, people will find the show boring. Perhaps we are supposed to be Sorely Vexed and blame the evil radicals for ruining innocent children's fun. It is a mystery.
The race night is cancelled because one horse in one race belongs to widely loathed gangster-friendly pro-Beijing figure Junius Ho. Maybe the Club is concerned that someone will repeat suffragette Emily Davison's historic protest. For horse-racing types, this is a big deal – the evening's mind-numbing pastime could have gone ahead had Ho (of whom they clearly know little) done the sporting gentlemanly thing and withdrawn the nag.
Any chance of cancelling some golf, or the bizarre Formula E thing?
The government did not cancel yesterday's Meet the Riff-Raff PR Stunt between Carrie Lam and district council members – but it probably should have, as only one in five of the invitees turned up. This means even most pro-Beijing members boycotted the event. Presumably, they hope this will give them an air of trendy, hip, edgy credibility among voters ahead of the forthcoming elections.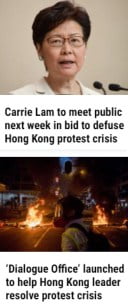 This will be followed by a series of Meet the Peasants Photo-Ops starting next week – part of the Daringly Bold Pilot Scheme for Listening to the Natives. It is 'headed by a retired bureaucrat' (originally a cop, who rose to become Permanent Secretary for [I'm not making this up] Innovation and Technology), whose remit is to 'take charge of coordinating the dialogue platform programmes initiated by the government and suggestions made by the non-government sector'.
It is easy to make fun of the fact that Carrie Lam's answer to everything is to set up a committee. But this obviously pitiful and insulting Platform for Dialogue idea is more symbolically meaningful than you might think.
For 20 years, the Hong Kong government has refused to listen to public opinion – and now it has finally blown up in their faces. The Hong Kong administration, as an institution, has lost legitimacy not only among the Hong Kong people, but among the Chinese leadership. Beijing has pushed it aside, taken command of key functions like the police, and ordered the local officials to do nothing except await orders as the CCP decides how to fix the mess. The Hong Kong government has been allowed to set up its harmless little Platform for Dialogue precisely because it will have no impact on anything.