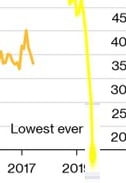 This Bloomberg chart shows how Carrie Lam's approval ratings have plunged. But it's out of date – she has now hit 17%. My MS Paint rejig is about right.
In the absence of a functioning Hong Kong government, the Chinese Communist Party is determined to see how well Mainland-style intimidation and thuggery will work in a free society. Two Hong Kong protest organizers, Jimmy Sham and Max Chung, were attacked on the street in separate incidents yesterday. Andy Chan (formerly of the now-banned HK National Party) was arrested at the airport last night. And police bundled Joshua Wong into an unmarked vehicle this morning. (Update: now Agnes Chow, too.)
For the 'good cop' side of the routine, they are putting more pressure on Cathay Pacific and other companies and schools to spread fear among their staff; they are also engineering vague (and, to most rational people, scarcely credible) threats that military units are prepared to move in, and the authorities might use emergency powers to censor the Internet.
It all looks calculated to provoke a bigger turnout at tomorrow's (non-authorized, Chater Garden 3pm) assembly in Central, and further strengthen broad anti-government sentiment. To people in free societies, the most logical explanation is that Beijing is deliberately creating a scenario that warrants military force. But to the control-obsessed CCP mindset, this multi-pronged crackdown is the only conceivable alternative to sending troops in. It is not so much sinister as farcical, and increasingly tragic.
The Washington Post struggles to make sense of a 'Hong Kong government' that mysteriously stands silent and motionless while the city (figuratively) burns. Some quotes in the article hint at the possibility (or fact) that Beijing has essentially suspended the administration, while pro-government figure Regina Ip says that concessions would encourage protests. A (venerable) rhyme from my childhood comes to mind…
As I was walking down the stair

I met a government that wasn't there.

It wasn't there again today.

I wish that government would go away!
Maybe, in its indecision, Beijing is just going to sweat it out until after the October 1 National Day. Either way, poor Carrie is being horribly set up. At some point Beijing will have to lose face – and it will deflect that onto the hapless Chief Scapegoat. A trumped-up corruption allegation, perhaps? The CCP are not original or subtle when it comes to these things.
I declare the weekend open with some worthwhile links.
Atlantic looks at how the CCP's bullying forces Hong Kong companies 'to do the dirty work to ensure that their staff don't take part in the demonstrations' and shows that Beijing 'places political control over economic reason'.
New Yorker sees Hong Kong from Xi Jinping's standpoint: '…a massacre reminiscent of Tiananmen would be almost incalculably costly'.
New Statesman adds to the buzz about 2019's big urban geography story – the role of shopping malls in Hong Kong's fight for democracy.
A quick Twitter thread on why the CIA isn't behind Hong Kong protests. (Could this be the same CIA that manages agents in China so well that 20 of them were caught and executed eight years ago? Yes it could!)
A Comparativist academic analysis of Hong Kong's protests…
From [the June 16 mega-march] forward, the movement was no longer about the bill itself but the structural contexts that got us in the situation in the first place: an unelected, unresponsive, illegitimate, and reviled HKSAR government that now responded with excessive force whenever activists showed signs of doing anything more than march along designated routes or gathering in parks.
Chinafile explains that not all Mainlanders believe Beijing's line on Hong Kong.
For anyone hadn't guessed, Inkstone says Hong Kong's example is pushing Taiwan even further away from taking a One Country Two Systems arrangement seriously.
Al Jazeera asks if China can accept Hong Kong's unique identity. To give us a clue, the Globe and Mail looks at the CCP's thing about forced confessions, which reflects…
…the inability of the Communist Party to tolerate any independent voices … They can't live with a plurality of opinions, so they are obsessed with censoring everything – and with putting words into people's mouths.
For fans of rail, logistics and murk, Panda Paw, Dragon Claw reports all you want to know about the empty trains on Belt-and-Road trans-Eurasian routes, down to financing arrangements involving the likes of HNA and CEFC.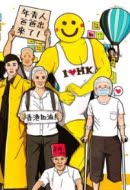 A history professor's YouTube series asks How much of China is really China? If you're in a hurry, fast-forward to 14.08 (oh, go on) for the essential two-sentence summary. If you have time, check the guy's other talks on Mongols, Greeks, the lot.
And more Hong Kong protest artwork – from 'hellowong'. Maybe just me, but this could be one of the best yet.
And lastly, whatever happens in Hong Kong, at least we won't have to suffer the delights of American cuisine. For gastronomes out there, this video takes 2 mins 20 secs, but seems more like a very hellish, nightmarish hour (I was looking away by the end): 'It kept getting worse'.