Equal time for the pro-Beijing video-makers out there. These were all forwarded from someone in the government-friendly, anti-protest camp. One thing about these people is that they do not seem too fussy about the provenance of the materials they send each other. I did not sit through every minute of each one, so my summaries might miss better or worse aspects of the entertainment.
In ascending order of weirdness…
Video 1 – as seen on several Twitter threads and other channels: Xinhua interviewing one Ian Stansbury, some sort of think-tank type, on why Western media are (cue melancholy violin) unfair to China.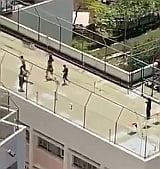 Video 2 – a quick documentary stressing how just a few hundred violent ultra-radical organized criminals (trained on rooftops, onsite commanders guiding the action and caught with high explosives) are wrecking the beautiful city we call home. Narrator seems to have a Canadian accent. Hosted on Google Drive (owner 'BBs and Baba Tao'). Looks aimed to please the CCP as much as influence the public, but made by 'A group of HK residents'.
Video 3 – features an activist called Sara Flounders of the far-left US Workers World Party: authentic 'tankies' who supported the Soviet invasion of Hungry in 1956, backed Mao after the Sino-Soviet split and adore North Korea. If you resist Beijing you must be CIA.
Video 4 – by one Jaron Lines, apparently an American in Hong Kong. He says the extradition bill has been exploited by the CIA to infiltrate the city. A quick Google search shows he peddles some sort of self-help/forex-trading thing called Life Ignitor, plus Bible quotes (more here, with thoughts on 'evil elites backed by the Zionists' and don't-ask-why tasteful pic of his wife's boobs).
Meanwhile, back on Planet Earth, here's some big tough pro-Beijing guys having a go at Dame Conscience herself, Anson Chan – who mercifully spares them a dose of The Handbag.