Hong Kong has held countless anti-government marches and rallies since the Lychee Revolution started in June. (Can we call it that? Please? It needs a name.) Every time observers think protest fatigue might be setting in, the turnout is massive.
But could this Saturday's gathering be different? It marks the fifth anniversary of the political non-reform package – not the most zappy reason for a demonstration. It will probably be raining. And there's lots more coming, like university class boycotts in the days and weeks ahead.
The Hong Kong Police come to the rescue by banning the planned assembly in any form. Another bout of illegal-gathering violence is born.
(By definition, the government must be the cause of anti-government demonstrations. But Sussex University's Dept of Protest Mayhem Studies research shows that in Hong Kong the authorities are virtually designing the lawlessness and chaos. It notes 'the role of government and police in setting up the scenario where protests take place', and how (in 2014) 'the use of tear gas against protesters was one of the main reasons for people to join the ongoing demonstrations'.)
Which brings us to the PLA's annual troop rotation, which just took place. They did it tastefully – that is, at night – as always. Some people are saying it's a few months earlier than usual. Others are claiming that troops came in, but none left. Overseas observers are freaking out. The local mood is a barely noticeable shrug.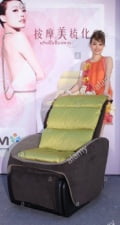 Tanks on Queens Road are about as likely as those Emergency Powers from 1922, under which Carrie Lam would take a thick pencil to all offensive telegraph signals coming through the colony, 'seize property' (just try it), and lock up anyone she wants for life. But as a precaution, the HK Internet Service Providers Association issue a statement warning that just messing with one or two apps and websites will likely lead to erection of a full Mainland-style firewall, so kiss bye-bye to your international financial hub.
And former Chief Executive ultra-patriot CY Leung is offering a Free!!! massage chair plus HK$500 in Park N Shop coupons to anyone who produces the severed head of a protester who has damaged the national flag.