Beijing's global 'soft power' campaign isn't going to well right now. Not that they're exactly prioritizing it.
In an uncharacteristic fit of good taste, Facebook and Twitter are banning Chinese state-funded fake news and propaganda aimed at 'undermining the legitimacy and political positions' of Hong Kong's anti-government protest movement.
The movement itself is buying more ads in international newspapers. If they seem dramatic and emotional, that's the point – to grab the attention of the Spanish, Korean, Swedish and other people concerned. These audiences might also have read about the nastiness of Mainland students at pro-Hong Kong gatherings on campuses around the world. CCTV will need to ramp up the cuddly-panda videos.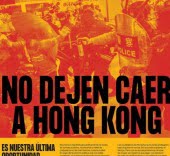 In Hong Kong, the weekend's outbreak of large-scale non-mayhem is making things harder for what passes for the local government, which finds itself with no evil wicked naughty violence to condemn.
Anthony Neoh, head of the Independent Police Complaints Council, goes rather off-message, calling for official withdrawal of the extradition bill and sounding vaguely OK with a commission of inquiry. He is telling Chief Executive Carrie Lam that the police cannot fix what is a political problem (she is 'working on it'). He does not sound impressed by the official line that the government cannot and will not take any action until and unless protests totally cease and everyone sits down, shuts up and behaves.
The insistence that 'the protests must end first' is a current pro-establishment mantra. There is no reason why the anti-government movement should take it seriously (remember that promises of reform following protests in 2003 and 2014 came to nothing). The demand is also illogical if only because – by definition – the onus is totally on the government to resolve a problem that's bringing millions of people onto the streets. The semi-official explanation is that the Chinese Communist Party will not submit to pressure, although we know from experience that it does, sometimes. At the moment, with October 1 coming and a trade-turning-Cold war to deal with, it is under a lot of pressure.
There are rumours that Beijing is getting so sick of Carrie Lam's constant requests to resign that they might actually let her go. This could break a logjam in the short-term (she could be replaced by one of the under-puppets, who could make some symbolic concessions). But this doesn't solve Beijing's Hong Kong problem.
Some local establishment voices are hinting at big changes on the way – notably to housing and land policy, and to political consultative mechanisms. As well as being too little too late (they had 20 years to do that), it sidesteps the basic contradiction of how a Communist one-party dictatorship absorbs a free pluralist society. It sounds like wishful thinking by elites desperately trying to stay relevant.
Here are three 'big-picture theories' from deep in the heart of rebel territory about how things will work out. The US Cavalry will definitely not come riding to the rescue. And expulsion from the PRC for being too annoying (like Singapore from Malaysia) is too gloriously wonderful to be true. The third – outliving the CCP – sounds do-able.