It seemed too trite to predict that Chief Executive Carrie Lam would resort to this as her Big Idea to end Hong Kong's anti-government uprising, but she's gone and done it – yes, she's putting together a committee.
Presumably, the 'platform for dialogue' (without waiting for everyone to sit down and shut up) is intended as a conciliatory gesture that will assuage the moderately mad mainstream malcontents. After the last 10 weeks, this sounds unlikely.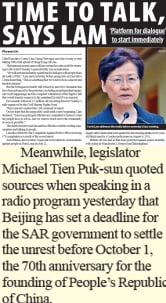 (One oddity here is the plan to bolster the police complaints body with overseas members. This is not something Beijing officials would particularly like. Perhaps a small glimmer of good governance accidentally fell through the net.)
To further dampen Carrie's pathetic platform plan, yesterday's other news featured: a nasty knife attack on protesters by a pro-Beijing hoodlum; the emergence of a video showing cops assaulting an elderly man on a hospital gurney; and the disappearance of a local staffer at the British consulate. The latter story neatly encapsulates two hot issues – the rottenness of China's legal system that provoked the reaction against the extradition bill, and the Mainland security officials' zone beneath Kowloon High-Speed Rail Station, where the guy seems to have been detained.
Pro-establishment-but-awkward businessman Michael Tien suggests that Beijing is indeed desperate to pacify Hong Kong in time for the 70th National Day celebration on October 1. That means naughty Hong Kong people must stop 'overshadowing' the CCP's self-glorifying pageantry by… mid-September. At the latest. Hard to say who he thinks he is helping by spelling this out. But if you want confirmation that the protest movement is in a position of strength, here it is.