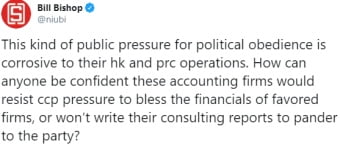 Hong Kong's 11-week uprising finally starts to die down with… 1.7 million people on a peaceful march. (You can quibble over numbers, which are impossible to measure. Hong Kong demonstrations these days come in two categories – ginormous and not ginormous. This was yet another of the former.) The official response is even more brief and constipated than usual, tut-tutting about traffic and concluding…
The Government will begin sincere dialogue with the public, mend social rifts and rebuild social harmony when everything has calmed down.
We are told all this unrest in the streets harms business, and we should be bursting into tears at the sight of real-estate moguls like Prada's landlord, Allan Zeman and Hysan cutting retail rents.
At this point, our friendly neighbourhood Communist Party says 'here, hold my beer' and shows what real damage to the business environment looks like.
The forced public kowtow by Cathay Pacific and parent Swire Group is punishment for the airline's nonchalance over its employees' involvement in Hong Kong's protest movement. Gory details (and some arguably misleading but minor tittle-tattle) here (and more here).
The whole chain of events must permanently undermine large companies' confidence in Hong Kong as a business location, 'partnership' with Mainland entities, and the idea of having good relations with China…
Group chairman Merlin Swire was summoned to Beijing and ordered to fire Cathay's top two senior managers.
For additional humiliation, the news was broken by state CCTV before the company had a chance to make an announcement.
The share price plummeted (sending a message that China could ruin stockholders and perhaps enable second-largest owner state-owned Air China to buy up the remains).
The SCMP quotes a source as saying "Merlin had to save [ritually dismember] Cathay to save Swire." Swire's Mainland interests include property, Coca-Cola bottling and much more. The great and ancient hong had zero choice.
Top executives Rupert Hogg and Paul Loo have been banished from the Swire Group as a whole. Anyone else who hires them in future will be defying the Wrath of the Panda and will, in Beijing's eyes, be 'hostile to China'.
Hastily appointed replacement CEO Augustus Tang, the SCMP implies, has been chosen for his ethnicity, as a further sign of submission to the Han emperor.
It gets worse…
Beijing has extracted a forced confession from Cathay in its official statement – a self-criticism that its actions have 'called into question' the airline's 'commitment to flight safety and security'. It would be a shocking wrongdoing for an airline to slip up on safety and security. What's really shocking is that Cathay (however much you might whine about the grilled lobster in the first-class lounge) has an impeccable safety record (ask insurers).

Beijing has forced the company to libel itself.

Last but not least, Swire has long prided itself on its warm and productive relationship with Beijing, dating back to the 1980s. This is how the CCP treats its friends.
Hard to believe that just nine months ago we were upset when the Hong Kong government, at Beijing's behest, kicked out one Financial Times editor for a minor thought-crime. Now, the CCP decides your senior management team for you.
The Big Four accounting companies are now under pressure to punish staff for their political beliefs.
One easily foreseeable consequence is that companies' employees (or simply people claiming to be staff) can now retaliate against Beijing or the companies by publicly supporting the protest movement. How can Hong Kong's service industries operate if fear and suspicion ruin relations between companies and staff?
Then there's the reputations (whatever they may be already) of these professional firms. How can clients and the public have faith in companies that bend to the political will of the CCP? And hello, law firms.
Meanwhile, the Hong Kong government is angry at all you naughty marchers dampening Allan Zeman's rents.