(Devastatingly, I have some real work to do.)
An article in New Statesman examines the declining reputation of the HK Police, and asks why people still join the force. (Yes, it's the pay.)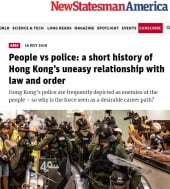 This applies throughout Hong Kong's public sector: the more overpaid civil servants become relative to the rest of the workforce, the worse their actual/perceived performance. The regal lifestyle of Carrie Lam and her colleagues (luxury homes, chauffeur-driven limos, private schools for kids, priority treatment at hospitals) is completely disproportionate to their jobs as mayor and municipal officials of a city of 7 million.
To the top bureaucrats, the ultra-generous packages, tacky status symbols (Jockey Club membership, Gold Bauhinia Medals) and remoteness from real life are confirmation of their own superiority and genius. If you ask one who is at least half-consciously aware that they are absurdly overcompensated, they will say – with a totally straight face – that it is the only way 'to attract talent'. Seriously.
From HK Free Press: an interesting look at how China's propaganda machine treats the Hong Kong protests.
Geremie Barme on Hong Kong as 'the other China', with reference to RTHK's satirical Headliner show.
And last but not least, one of the many pitiable pro-Beijing shoe-shiner quasi-politicians attempts to do some patriotic counter-espionage by outing Twitter star Hong Kong Hermit as a 'foreigner' in a 'riot' (and she doesn't mean his shirt). Creeped out by the sinister hand-signals, Global Times is moved to run with the 'green-eyed devils in our midst' scare. If the Communists defeat Hong Kong, it'll be because we've all died laughing.