Chief Executive Carrie Lam is considering 'martial law'-type emergency regulations that would allow her to ban public gatherings – according to Apple Daily.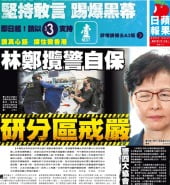 Reasons to believe something like this is possible… It would explain the HK Police kettling, shopping-mall rampaging and other tactics, which (if not due to incompetence) seem designed to create maximum high-visibility mayhem, of the sort that conveniently justifies tougher action. And this would be in line with a semi-stealthy assumption of power by Beijing's Liaison Office, which no doubt sees the crushing and silencing of opposition as the only possible course.
Reasons to be skeptical… In practical terms, authorities would have to impose curfews or other restrictions onto at least neighbourhood-size areas, which would alienate whole communities of people wanting to go about their usual rushing around from 7-Eleven to the noodle shop to tutorials to basketball or dog-walking, mall-strolling or other lawful activities. (More to the point, it could stop people from getting to work horror!!!) It would also invite international attention and condemnation at a time when Beijing faces enough trade-war, Taiwan-election and other headaches. (Thought: did Beijing refuse to let Carrie resign because they feared she would sign up as Tsai Ing-wen's campaign manager?)
Ultimately, it's a question of whose taste for panic-stirring melodrama is greater – Apple Daily's, or the Communist Party apparatchiks micro-managing the struggle against counter-revolutionary forces? On balance, I would guess Apple 'paywall' Daily. For now.