Quoting (as in 'being used by') anonymous sources, the SCMP reports that Beijing is going to change its approach to Hong Kong. The outline is vague and largely yawn-inducing: stick with the local administration for now (for want of an alternative); put a lid on the protests (presumably a foreign plot to destabilize the nation), but without using Mainland forces; unite and strengthen the pro-government support base (more tired old United Front micro-meddling); and then, in the longer term, somehow reform governance.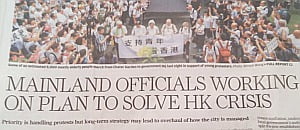 In brief, the CCP – taken by surprise by the unrest – hasn't got a clue what to do, but realizes it must do something (involving tighter control, naturally).
What's worth noting is the stress on Mainland officials investigating what's happening and drawing up strategies in response. The impression is that the Hong Kong government itself is a bystander along with the rest of us.
This follows two other leak-smears – the one in which Carrie Lam alone instigated and managed the whole extradition bill, and the one in which Carrie tried to resign but wasn't allowed to. And it comes at a time when her administration is, presumably, being forbidden to take obvious steps to defuse the situation (like officially 'withdrawing' the bill, or promising an independent inquiry into the unrest). Meanwhile, in the absence of top-level leadership, the police are left to handle a mass political protest movement with ineffective or counter-productive tactics. It's an almost-inexplicable spiral into ever-deeper doo-doo paralysis.
A paranoid wacko conspiracy theory… Beijing's officials are setting the Hong Kong government up – and more than they need to simply to protect their own backsides. The aim is to make the local administration appear (or indeed actually be) so disastrously and unbelievably incompetent that, whatever the CCP puts in its place, everyone will welcome it as a relief.