From CCP loyalist Tsang Yok-sing to pro-Beijing business figures to Anson Chan and moderate pro-democrats, the events of the last month have come as such a shock that they are agreed on one thing: Hong Kong's political structure is dysfunctional and we really really seriously need to restart the constitutional reform process.
They sound sincere. But they are overlooking the fact that, to Beijing, a system that does not receive input from the population is not flawed – it works as intended to fit the Hong Kong administration into the overall Leninist national political structure, in which the CCP core has a monopoly of power which flows downward only.
It follows that our fixation with the 'Hong Kong government' – structure or personalities – is a diversion. The 'SARG' looks like it's in charge, but it is more of an ornament, and probably has no more influence in Beijing than the Hong Kong public does in Government House.
We focus on the sideshow that is Carrie Lam and her inept mediocrity-officialdom because they are visible, an easy target and apparently responsible. They are a convenient punch-bag not only for the local public, but for the real power in Hong Kong – the Liaison Office/HK and Macau Affairs Office/State Council, or 'Beijing'.
The real conflict is between these two sides: Beijing (a chain of command no doubt riddled with duplicity and infighting) and the Hong Kong people (aware citizens and civil society, plus nervous international business interests and vaguely concerned overseas countries). The Hong Kong government is an inert object keeping the two apart.
But mercilessly torment it we must. Perhaps it is good for our sanity.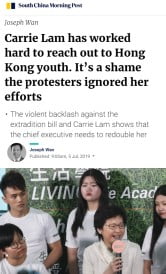 Unlike this… I am indebted to commenters for alerting me to one of the slightly odder corners of the pro-establishment shoe-shining universe. It looks like a worthy/condescending NGO of rich high-school kids helping their less advantaged counterparts. But it has plentiful links with Beijing-friendly tycoons, including some with a track record of charitable activities that look more like cynical, desperate attempts to keep the increasingly angry peasants at bay. And its young founder seems to be a longstanding, avid admirer of Chief Executive Carrie Lam. I have added the links, and will provide one to a sick-bag shortly.
Comment:
…the teenager whose [article] in the SCMP — which now seems to have vanished? — arguing that Carrie Lam has been really good for high school kids…
Response:
[Do you] mean article by Joseph Wan of Support International Foundation? It only takes a gander at the website to know where he is coming from. International schools co-opted into the pro-establishment network, and let's face it who else can afford their fees?
Chair is [property developer's son] Lau Ming Wai, Youth Commission. Funding probably from Bauhinia Foundation. Henderson, Chun Wo and Sino Land also on board and impeccable connections with SCMP/Alibaba ensuring media coverage.
Allan Zeman is an advisor, say no more.
For all its irrelevance, the 'SARG' is a Big Deal at the local-shoe-shining level.