Another weekend, another – not one, but 2.5 protests: an interesting anti-dama one and the Tsimshatsui Mainlander-leafletting march that morphed into another display of cops out of their depth. At best, it seems the HK Police see mass opposition to a garbage government as an ultra-urgent traffic problem. On their tactics, here's a good analysis of the Retreat from Fortress Legco.
It's unrealistic to expect the police to know how to handle all this when the government itself is so clueless. The big initiative is a bureaucrat-crafted on-line charm offensive. The answer to everything is communicating, especially with young people.
Non-official Executive Council member Aunty Reg is on a charm offensive of her own. Again, the core, or at least ostensible, I want to be Chief Executive!!! message in her Me me me for CE!!! op-ed column is that the Hong Kong government's main problem is I could do much much better as leader!!! weak communication.
The 'poor communication' argument is attractive because it sounds vaguely touchy-feely, and it suggests that an easy, simple tweak will fix everything, like adjusting the amount of salt in a recipe.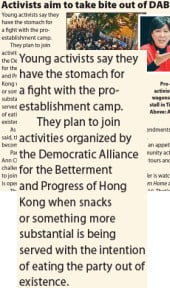 It's arguably less insulting than officials' other explanations for discontent: Hong Kong people are too stupid to understand how wonderful the Mainland is; the kids are brainwashed/funded by evil foreign forces; it is a manifestation of sullen resentment against the Mainland's new prosperity; it's caused by the 'liberal studies' high-school course (which admittedly does wonders for the kids' creativity); it's simply down to housing prices and inequality.
But we have just had a month – four (?) mega-protests, several outbreaks of mayhem, the selective sacking of Legco and dozens of smaller gatherings – in which the public sent a clear message, the only way they can, to the government. There should be no need for more 'communication'.
But it seems there is. Next Change, as they used to say in the cinemas: smuggler-clogged Sheung Shui, exotic Shatin and pro-Beijing TVB's HQ in Tseung Kwan O.
Update: a tally of protests.