As the clean-up starts at the Legislative Council, the Hong Kong government and its friends go into choreographed hair-pulling meltdown over disgraceful young thugs wrecking our precious rule of law. You'd almost think the protestors had tried to force an extradition-to-the-Mainland bill through.
It's common sense that the local administration absolutely must now Do Something to fix basic problems. And yet, it is equally obvious to anyone who lives here that these officials neither want, nor know how, to do that. It was for these very inadequacies that Beijing chose them.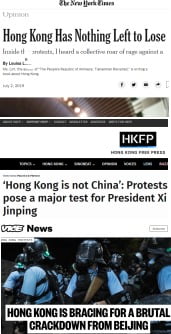 A satirist would joke that the government will appoint a property developer's son to head up a Let's Listen Earnestly to Young Folk Committee – but that's been done already. Unless our bureaucrats can out-parody themselves on this, expect nothing from the local puppet show.
So it's up to Beijing.
Vice quotes the estimable Steve Tsang as saying that "a more liberal response is not in the genetic pool of the CCP." Leninists can't do 'hearts and minds' because that would essentially make them democrats. So that's out.
Guardian columnist Simon Tisdall sees the conflict in a global liberalism-vs-authoritarianism context. He thinks the most attractive option to Xi Jinping could be "Imposing de facto direct rule from Beijing while maintaining the rhetoric of 'one country, two systems' and the pretence of self-governance…"
This is what we already have, but presumably he means serious, no-nonsense de facto direct rule – not this namby-pamby version.
It's a question of pace. If Beijing wants to speed things up, we can expect some sort of 'national security' laws criminalizing anti-CCP activities and opinion. This must entail curbs on the press and Internet, and on the independence of the courts. It also entails more people on the streets, and maybe this time the kids will take over the whole Government HQ complex and not give it back.
AFP quotes an academic who points out that Beijing is in a bind, and expects a 'mix of carrots and sticks'.
Put yourself in Beijing's shoes: what would you do? You can't leave things as they are – but you can't change them either.
Writing in the NYT, People's Republic of Amnesia author Louisa Lim admits that 'no-one knows what will come next'. Bingo!