Hong Kong's English-language press tends to refer to prominent pro-Beijing figures as 'heavyweights'. This is partly because these individuals' United Front honorifics are laughable, not to say long-winded. You can't squeeze 'Member of the Standing Committee of the National People's Congress' into a headline.
It also creates a corridors-of-power mystique. It's not necessarily that the media want to puff them up out of deference, but reporters understandably don't want to appear to be quoting a nobody. A 'heavyweight' sounds influential, even though in reality it's just a blindly loyal, slogan-reciting, impotent shoe-shiner occupying an ornamental position while awaiting the CCP's parting kick in the teeth.
Then you have pro-Beijing figures who are too pitiful to warrant the 'heavyweight' tag. Priscilla Leung attracts such labels as 'outspoken' or 'firebrand'. She is so transparent and opportunistic in her attempts to ingratiate herself with her United Front masters that there is no point in hinting that she might have substance or authority. And you can't fit 'loathsome venomous psycho toad-sucking child-weasel misfit' into a headline.
The pro-Beijing (but occasionally slapdash about it) Standard takes thinly disguised pleasure in reporting a cab driver telling Priscilla to take a hike…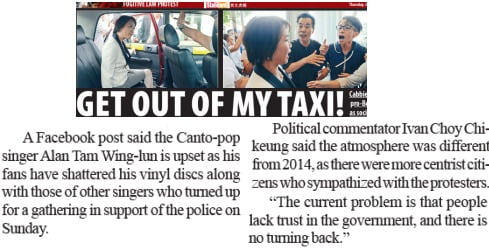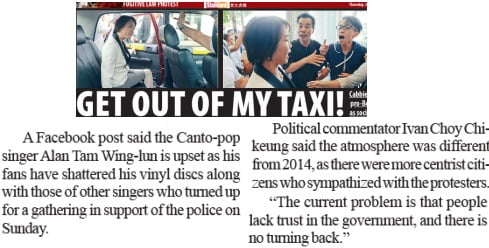 It adds that Hong Kong's uprising is moving on to the book-burning phase. Music fans are breaking discs by Canto-pop stars who have used Hong Kong's recent protests as a chance to flout their patriotic credentials and burnish their Mainland commercial prospects.
A commentator tells the paper that this time is different from Occupy. After the 2014 events, the government had some success in directing anger at the protesters for defiling rule of law, causing economic ruination, ending civilization, etc. This time, not so many people are buying attempts to mask a political crisis as a law-and-order problem. Maybe zealous police roundups of suspects and hyper-aggressive prosecutions could backfire.
The implication is that a chunk of previously passive middle-ground 'silent majority' now hate the government. CY Leung they could ignore, but Carrie Lam has proved too much to stomach. An administration with a clue would worry about this. Watch these zombies blithely press on.