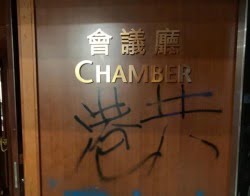 One lesson from June 2019: every time you think 'after the events of the last few weeks, probably not much will happen today', humungous mayhem is about to break out. Hong Kong's Great Extradition Uprising of 2019 shifted from 5th to 9th gear last night with protestors' most stunningly audacious move yet – the Conquest of Fortress Legco.
Mature, calm, sensible, wise voices of reason react in horror. This doesn't look good. This is playing into the government's hands. This is what the CCP wants. This won't end well. It's a trap. Getting bad vibes…
The more flamboyant, reckless, 'woke' or just plain pissed off watched in wonder. In my case, it was on a split screen carrying nine feeds, including simultaneous views from both sides of the metal barrier as it was bashed in. They're not seriously going to do this. Oh wow – they are! They're flooding in. Oh no, please don't spray graffiti. Oh that's Rita Fan's portrait? OK, carry on. You absolute geniuses.
At around 10.30 pm, we were on the edge of our seats begging them to get out before the cops (who to their credit had the sense to vanish earlier) came back.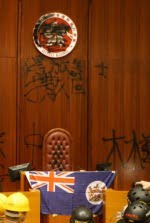 The government's initial instinct is to do its big Shocked Shocked Horrified at Unruly Violence Bad Youths Destroying Rule of Law act. But they wrung it dry after Occupy. Anyone receptive to such contrived righteous indignation has already bought into it. I don't have an opinion poll to hand, but I would guess quite a lot of Hongkongers today are saying 'well I don't approve of vandalism, but…' Graffiti is tacky and childish – but these were messages inscribed on an appropriate medium.
Even the most obtuse of our officials must be dimly aware that they got a well-deserved, long-overdue public stomping. The word is Carrie will fast-track a multi-pronged cross-departmental committee to identify possible ways forward in comprehending what people on Planet Earth are thinking.
Although opinions vary on last night, everyone agrees we are in (as the newspapers put it) uncharted territory. What will Beijing do now? Good question. Beijing has never been told to get screwed like this before. No-one knows.