The Hong Kong Bar Association has issued a couple of (fairly concise) papers on ongoing legal threats to the city's freedoms.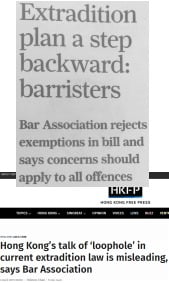 The first is on the Mainland extraditions proposal (news reports here and here). One key point is that the proposed amendments are not necessary to 'plug a loophole' as officials claim; indeed, the 'loophole' is a deliberate omission by the Legislative Council years ago as a safeguard against China's dismal legal system. The proposal also weakens safeguards by reducing legislative or judicial oversight and checks while giving more discretion to the Chief Executive.
The HKBA also points out that it is illogical for the government to exclude nine white-collar crimes from the proposal (to mollify the business community) while leaving other categories of offense in place – either the framework as a whole is unsafe or it isn't.
The HKBA's other paper is on the proposed national anthem law (report here). It says that the bill conflicts with (ie Mainlandizes) Hong Kong's common law by including provisions that are 'social or ideological' or 'aspirational and directional' and do not entail punishment, and by being vague.
These two proposals – clearly orders from Beijing – have several things in common.
First, they bring Hong Kong closer into the Mainland system in terms of Beijing's physical reach (extradition) and ideological control (the anthem).
Second, in both cases, Hong Kong officials assure us that everything will be fine because our wonderful local courts and independent judiciary will be there watching over everything all the time, so how can anything nasty possibly happen?
And third, although the extradition thing clearly rattles international business, there's little or nothing anyone can do to stop them – as officials will demonstrate as they wave away the two HKBA papers.