Pro-democrat Lee Wing-tat says 40 Communist Party members are among the 150 immigrants per day Hong Kong must must must accept  from China. Everyone assumes as much. In her 2010 book Underground Front – The Chinese Communist Party in Hong Kong, Christine Loh mentioned that many of those selected (by Mainland authorities) for one-way permits are CCP loyalists.
One-way permit holders are supposedly coming here for family reunion after being on a waiting list for years, and are presumably not especially educated or skilled. It is unlikely that Party members among them would be on high-powered 'missions'. Beijing can send whatever academics, businessmen or officials it wants here to work as serious intel-gathering or other agents.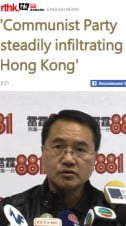 Lee suggests that this influx of Mainlanders is partly intended to boost the local pro-Beijing electorate. Now Beijing has clearly ruled out representative government in Hong Kong and rigs ballots, this sounds quaint. But his point that the migrants join United Front grassroots activities makes perfect sense. They will speak Mandarin rather than Cantonese. The loyalist newcomers will have 'neighbourhood committee' and similar backgrounds. And of course they will bring up their kids to be oh-so patriotic (barring mishaps). This is Mainlandization at its most obvious and basic.
One-way permits would be more a reward for loyalty to the Party than handed out as cover for an official assignment. Bribery and other favoritism probably also come into it – choice of these migrants is all out of Hong Kong's hands.
So, it's nothing weird or sinister – just a policy to gradually dilute the native population and culture until they go the way of the Manchu.