As befits a day of dank, swirling mists, the markets open with a fall. Everyone suddenly notices that the global economy is running out of steam. Policymakers, after straining for years to raise interest rates from zero to slightly above zero, talk about easing. Displaying similarly dazzling and profound originality, the usual herd piles back (allegedly) into the world's one gravity-free investment-asset class: little concrete boxes in To Kwa Wan.
To put a little brightness into the gloomy scene, top business writer Shirley Yam joins the HK Free Press – starting with a look at how Hong Kong regulators go easy on investment banks that fail to do due diligence when bringing cruddy Chinese companies to market (an activity in which Mainland banks are increasingly dominant, well gosh fancy that).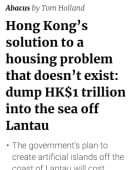 And we enjoy another ray of sunshine, as the last remaining functioning business writer at the South China Morning Post takes the Hong Kong government's trillion-dollar Lantau reclamation absurdity and brutally tears it to shreds. Ouch.
Finally, someone has a stab at answering one of the great mysteries of life: why do tourists go to Stanley? And, essentially, it seems they increasingly don't.
When relatively intelligent- and curious-looking visitors (the 'vacationing academic' types) in Central ask me for directions to the dismal destination, I occasionally take pity and tell them it's a dump. I advise them to board a cross-harbour bus at random, just see where they end up – and explore the place (probably a New Territories estate with cheap-and-cheerful noodles, gory wet market and mountain views).
According to the article, one possible solution for Stanley's retailers is to stop selling ridiculous crap no-one in their right mind could possibly want. How on earth do people get these dangerously wacky and radical ideas?