Who says the Hong Kong government never listens? Officials show their caring and understanding side today as they drop nine economic crimes from the proposed new extradition arrangements.
The lucky beneficiaries of this uncharacteristic sensitivity to external opinion are business-folk, who proved unexpectedly (and curiously) nervous about being sent over the border. In consideration of their feelings, the government will drop nine categories of commercial crime from the deal, covering such issues as bankruptcy, securities trading, IP, public health (because, seriously, who cares about that?), import/export, pollution and tax.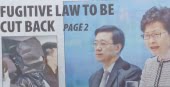 However, some economic crimes are still included, namely bribery, fraud and money laundering.
This looks calculated to calm Hong Kong and international businessmen. The nine areas of white-collar offense are the sort that vindictive Mainland local officials or business partners might use maliciously against them. The three remaining areas look more like the ones Beijing would use to get its hands on fallen members of its own elite who are holed up here.
The Hong Kong officials announcing this yesterday looked a bit sour about having to make this concession (they are muttering about it just being an interim thing anyway). It is unlikely that they will be as accommodating to human-rights and other people pestering them for changes to the proposed arrangements.
The government announced this embarrassing retreat at an unprecedented 'Three Screw-ups in One' press conference, in which officials also admitted that they had failed (again) to sort out cross-harbour tunnels congestion, and that contractors had indeed 'cut corners' (but not meaningfully) in the MTR Shatin-Central link construction scandal.
Cynics suspect this bundling of multiple disasters for press conferences is a way to divert public attention from (or at least overload news reporters' senses with) blunders. Optimists will welcome it as an innovative approach to boosting government efficiency.