Our Hong Kong Foundation, a think-tank/lobby backed by property/construction tycoons, has another go at convincing us we need to spend half a trillion bucks on the Lantau Mega-Reclamation White-Elephant Vision. First time round, it tried a direct appeal – let's fill in the sea to get decent housing. Now it gets subtle and, in a nice twist, frames its self-interested 'research' as hip-and-trendy-sounding criticism of the government, for miscalculating housing needs.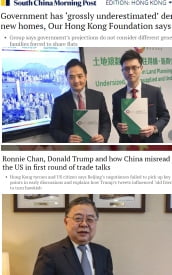 But no mention that under-supply of housing as policy goes back to Chief Executive Tung Chee-hwa, who is OHKF founder. Nor of the inflow of Mainland immigrants, vacant military and farm land, or the government-developer interplay that creates the overpriced land/luxury apartments. Strange!
If you want to read a fawning South China Morning Post article that repeatedly reminds you that developer (and, goes without saying, OHKF member) Ronnie Chan knows Henry Kissinger – here you go. According to the well-connected tycoon, Western wonk-types he hobnobs with have gone nuts over the last year or so. They used to be sensible mild Panda-huggers, but now they're suddenly turning skeptical about China. (Latest example.) He does see technology as a bigger issue than just trade, but avoids getting into the Huawei-type stuff. The profound thinker puts it all down to… Donald Trump's tweets.
No mention of South China Sea, threats against Taiwan/HK, a million Uighurs in camps, Belt and Road debt-traps, holding Canadians hostage, United Front activity, or Xi Jinping in general. Nor of Ronnie's own role in furthering Beijing's influence (here and here). Strange, again!