…the surprising part is that the morons manage to be in so many government functions. Today, they seem to be everywhere.
First, the main part of a new highway along (largely beneath) the shoreline from Hong Kong Island's Causeway Bay to Sheung Wan is described as a 'Central-Wanchai Bypass', though much of it supplements earlier roads designed to bypass even older streets along the same route. Obviously, at HK$36 billion, it is a money-no-object taxpayer-plundering white elephant – improvement of transport links is just an excuse for the project.
The initial impact probably delights transport bureaucrats: not many people are using it, yet it still somehow manages to create more traffic jams. They are no doubt considering yet more roads to relieve the new pressure at the new bottlenecks they have created.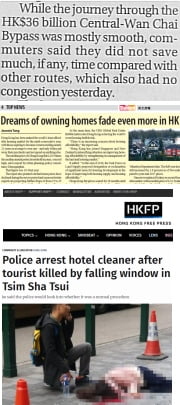 The fiscal philosophy – billions in the pig trough for construction cronies – is just scummy. But the planning mentality is pure moronic: let's counteract traffic congestion by making private-car use more convenient.
Second, Hong Kong has the Solar System's most expensive housing for the 18th decade in a row.
In the government's defence… The Demographia survey ignores factors like low taxes, low commuting costs, and virtually free housing for a third of the population in public rental accommodation. So our affordability ratio might not be quite as extreme as the data show (ie Hongkongers wanting private-sector housing probably have higher purchasing power than equivalent Vancouverites). And of course, there are global factors like low interest rates and the clustering of high-value skills in certain cities.
But the fact is that government policy decisions have driven prices up and, just as bad, apartment sizes down. We could guess that maybe half the 'excessive' pricing is due to local official actions/inaction.
According to popular legend, the government's unwritten aim is to enrich developers, with the accumulation of huge budget surpluses as a fortuitous side-effect. Maybe it's the other way round. Even back in the 1980s-90s, Beijing showed a fascination with Hong Kong land sales and revenues. Perhaps Beijing has ordered post-1997 administrations to prioritize the accumulation of reserves – and the inflated cost of housing is in fact the side-effect. Either way, the economic distortions have been damaging. Since housing prices are a root cause of anti-Beijing and pro-independence radicalism, this is moronic squared.
Third, a window falls from a hotel and kills a passer-by, and the valiant police arrest the hotel cleaner. Actually, this is not moronic, because the cops know something the rest of us don't: the window frames are specially designed to detach if opened, and the cleaner is a well-known murderous psychopath.