Former Hong Kong official Patrick Ho's weight-loss program – now 'several months' in – looks set to continue for a few more years after a New York jury finds him guilty of bribery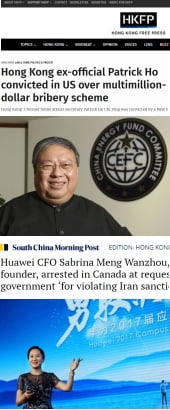 committed in the noble cause of Belt and Road. More on the…
…gift boxes stuffed with $2 million in cash … Hong Kong businessman's globe-hopping corruption scheme … quintessential bribe … like something out of a movie…
…story here.
And here's a big in-depth look at CEFC, the murky energy conglomerate that, among other deals, set about acquiring the Czech Republic as a subsidiary (not to mention the Caucasus).  By murky, we mean of uncertain ownership, but presumably serving both the Chinese government politically and CCP elites' financially. Which brings us rather neatly to…
Canadian authorities arrest the CFO (and founder's daughter) of Huawei for extradition to the US on suspicion of violating Iran sanctions. Shades, of course, of ZTE. The Chinese embassy in Ottawa goes into Major Mouth-Froth Mode about how Canada has harmed Meng Wanzhou's human rights and must 'immediately correct the wrongdoing'. Can she, like Patrick Ho, also look forward to the opportunity to lose a few pounds?
Still another 86 days to go in that US-China trade truce!