No sooner do I mention the possibility of renaming the Li Po Chun United World College's proposed Belt and Road Centre, than the alumni launch a petition calling for the very same thing (it's here).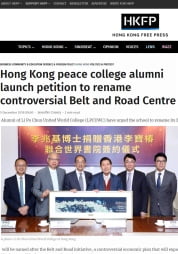 People unfamiliar with the psychology of obsessive-compulsive kowtowing to the Chinese Communist Party might wonder why aging billionaire property tycoon Lee Shau-kee would feel a need to donate funds in such an ostentatious way. The simple answer is that the idea is not so much to overtly display groveling loyalty as to avoid the impression that you are neglecting to do so. The driver is the fear of what might happen if you do not shoe-shine.
But why underwrite a 'Belt and Road' centre now? Hundreds (literally) of institutions throughout China paid homage to Emperor-for-Life Xi a few years ago by establishing supposed Belt and Road research facilities. Here in Hong Kong, City U, politician Regina Ip, blue-chip companies like HSBC, and the usual conference-whore bureaucracies rushed to be seen to join in the adulation. Now 'Belt and Road' is going beyond hackneyed and stale and starting to look more like a toxic neo-colonialist rip-off joke.
Hong Kong's cartelized developers are, of course, not known for their original approaches or innovative thinking.
We can only hope the campaign to rename this thing fails, and UWC gets a permanent monument to its own lust for donations and to Hong Kong tycoons' hilariously unconvincing sycophancy.
On more worldly matters… Anyone wanting a quick, qualified run-down of the US-China trade hoo-ha could do worse than flick through this and this from Prof Balding. Maybe the real challenge here is that faced by the White House and other advisors trying to keep Trump's mind on the post-Panda-hugging New Era big picture, rather than daily stock market movements and whatever flattery and lures Beijing and its Wall Street buddies might be dangling in front of him.