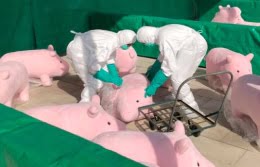 In accordance with a tradition – which takes effect as of now – I will say something positive about the Hong Kong government every Friday. After some searching, I am delighted to note that the health authorities are preparing for a possible culling of livestock should the latest mutant swine virus from the mainland cross the border. They are practicing with large pink furry toy pigs.
Easy to mock. But they could have shrugged and said 'Whatever, we'll sort something out if and when the bovine plague strikes' and gone back to daydreaming about collecting their pensions. But no, they have been proactive. Our tax dollars at work, possibly productively. At least fluffily.
The caption to the photo reads: 'You put the stun gun to the head, just here, near the washing instructions'.
I declare the weekend open with an assortment of things you might have missed. Willy Lam looks at Xi Jinping's domestic enemies. Atlantic finds no fewer than 15 reasons to freak out about (now missing) He Jiankui's gene-edited babies. Speaking of editing, Minxin Pei takes over at China Leadership Monitor. And here's the open letter protesting (what looks like United Front) harassment of New Zealand academic Anne-Marie Brady.
With the winter chill about to spread through town, a couple of warming links… Got an hour to spare? Why not launch your own cryptocurrency? And for music fans, a reminder that people who were seriously ahead of their time can in retrospect be tragically cringe-making: Pete Drake and his talking steel guitar.
On the subject of cringe-making…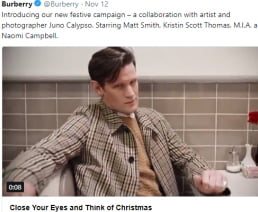 …who on earth is this rather odious, semi-pitiable and creepy-looking deviant, and why is he lounging like that and leering at me (it moves) on my tablet and PC screens about 30 times a day?