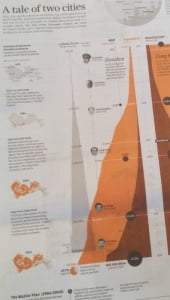 The South China Morning Post has a good info-graphic thing illustrating the development of Shenzhen alongside Hong Kong since the late 1970s. But sadly, they don't seem to able to wedge it onto their website. So instead, here's a video about Sunshine Island, over by Peng Chau.
Asia Sentinel on Hong Kong's declining rule of law:
…at some point someone is going to bring a case involving business interests that forces in Beijing will want adjudicated for reasons that have nothing to do with justice.
(See also the once-impartial civil service's attempts to keep Eddie Chu Hoi-dick off a village-election ballot.)
Lowy Institute discussing Leta Hong Fincher's book and her argument that…
China's all-male rulers have decided that the systematic subjugation of women is essential to maintaining Communist Party survival.
China Digital Times on the CCP's similarly benighted policies in Xinjiang:
Uyghurs are a stateless people who have been colonized by an authoritarian state that is attempting to exert totalitarian control over their society.
Australian Financial Review interviews a China business veteran with interesting comments on the impossibility of doing things ethically or legally on the Mainland, and how the Chinese economy is now running on empty.
Foreign Affairs on how China lost America. This is in some ways another article reflecting the now one- or two-year-old great realization among the world's chattering classes that China is not the warm and cuddly 'win-win' internationally responsible 'economic miracle' and blessing to humanity they once thought. It is also part of a newer trend to point the finger at Xi Jinping for blowing it and revealing China to be essentially a new USSR, with far more wealth but no friends and no subtlety. (A criticism echoed in some quarters on the Mainland as well.)
On other matters altogether… The confessions of someone who was into the JFK conspiracy theories, and came out of it sane. And for fans of hilarious, bizarre, disturbing music/video, Laibach's Sound of Music, Lonely Goatherd and My Favourite Things (with a PG trigger warning for the hyper-sensitive, and a not-especially-suitable-for-work alert for anyone in, say, a convent school).