Having seen The Devil Wears Prada, I thought I knew everything about the fashion industry. But even with such an expert level of knowledge, I didn't realize just how much this peculiarly fatuous business has its head up its own backside.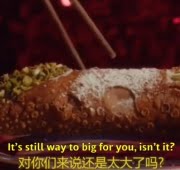 That's one thing I learned from this insider account by an apparently rather literate model who witnessed the Dolce & Gabbana tacky Bling-Crap Fest Catwalk Thing Show in Shanghai flop, following the tragically lame/mightily offensive Orientalist Pizza-with-chopsticks Video Outrage Horror Mass-Freak-out. The other thing I learned is that Dolce and Gabbana are actual people, not just some chic Latin-tinged name invented by the marketing department.
Amazingly, the company already upset sensitive Mainlanders and anyone with an ounce of taste last year by taking 'poverty porn'-type condescending (clunky, embarrassingly real-life) photos of hip glam young beauties alongside ragged shriveled Third World-elders in Beijing. It didn't help that the clean, shiny, trendy foreigners in the pictures exhibited – I can't help perceiving – barely disguised discomfort and distaste at being in close proximity to the grimy oldsters.
Of course, Dolce & Gabbana had this coming ever since it incurred the wrath of Hong Kong by trying to ban locals from photographing its ultra-classified top-secret shop windows in Kowloon a few years back. (You'd have thought purveyors of pretentious overpriced tacky clothes would get on better with camera-related issues.) The brand is now fit for only one purpose – hurting the feelings of the Chinese people.