Hong Kong authorities apparently being powerless to do anything about non-Financial Times staff coming through immigration control…
Travel agencies across Guangdong have been ordered to halt all one-day trips to Hong Kong and Macau on weekends via the cross-border bridge to reduce the nuisance suffered by the cities' residents.
Maybe the Guangdong Provincial government would like to sort out our housing, traffic, education and other problems while it's at it?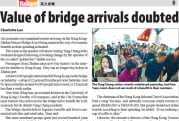 So a HK$150-billion, 55-km, six-lane bridge-tunnel opens. Only a small number of private cars are allowed to use it (subject to nightmarish permit procedures). Trucks apparently have no use for the new route. Hongkongers trying buses to Macau report that it's quicker by ferry; possibly the same goes for everyone's fave destination, Zhuhai, but who knows? And the main users – bored retired farmers from Zhongshan and environs – must be restricted because Hong Kong doesn't have the capacity to carry them.
It's a bridge linking a place where there's no space for more visitors or traffic to a place no-one wants to go to.
Meanwhile, a gleam of sanity bursts through the gloom, as an academic confirms that the sort of tourists coming over the bridge add little or nothing to Hong Kong's economy. Mass-market tourism is a parasite on a developed city-state with a shortage of space and manpower. A few interests (basically landlords) benefit, but only at the expense of the rest of the population and economy, which suffer lower quality of life and higher rents. Hong Kong would benefit from fewer mainland visitors.
It is clear that Beijing and the tycoons each have their own interests in swamping Hong Kong with outsiders. It is also clear (recall Sheung Shui) that it is only the threat of activism and visible hostility from Hong Kong people that makes officials pay attention.
Hong Kong policymakers, in their dimwittedness, are left trapped in a logical conundrum:
Tourists are a burdensome pain in the ass, and we need fewer of them
Tourists (mostly) come from the Mainland
Everything from the Mainland is wonderful and must be worshipped
Guangdong steps in, and our officials' brains stop hurting so much, for the time being.