And so, at last, the trial of the 'Umbrella Nine' begins. Here's the full background, including links to a legal explainer and much else.
There's probably never an ideal moment to try to throw a peaceful 74-year-old clergyman in prison, but for the Hong Kong government, this is especially unfortunate timing.
Under pressure from Beijing, local officials have stealthily extended censorship and other repression since the 2014 Umbrella-Occupy movement. With this Mainlandization becoming noticeably more heavy-handed in recent months, the overseas press are now paying attention. On top of that, the administration is trying people's patience with an above-average range of plain everyday domestic screw-ups and messes, like a half-trillion-dollar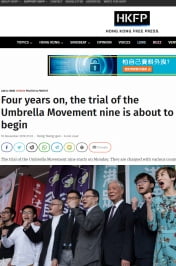 reclamation plan, the PLA's cross-border cabbage patch and a new public-nuisance-on-steroids influx of tourists.
Meanwhile, on the international stage (and possibly at home), Xi Jinping's hubristic and overreaching regime is losing friends and ceasing to influence people over trade, Xinjiang, APEC, United Front obnoxiousness, debt-trap-diplomacy, the South China Sea and much else.
Now Benny writes in the NYT, and Amnesty wades in. Even in its officials' whiny protests against external 'interference', Hong Kong is gradually looking and sounding more like part of the Mainland. The 'incitement to incite' trial – perhaps delayed for years in the hope few would notice – looks set to highlight and confirm it.
Rummaging around for reasons to be optimistic… How about 'rewriting the Hong Kong story' – would that work for you? Here's more from ex-lawmaker Christine Loh on her theory that we can fix all this with a 'new narrative'.